Kawanishi H8K2 'Emily' flying boat

FROG F276, Rovex industries ltd, Kawanishi H8K2 'Emily' flying boat 1969
---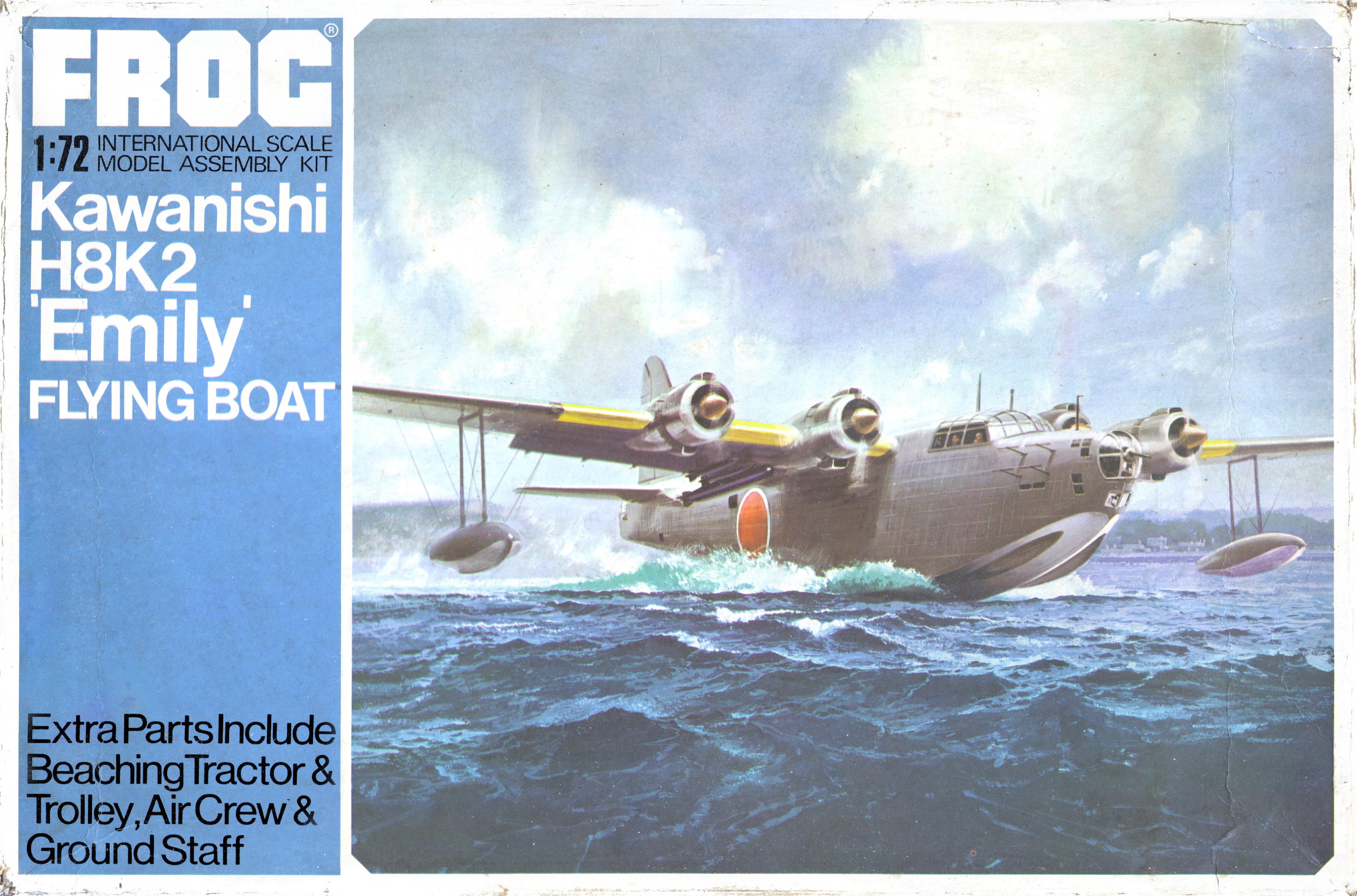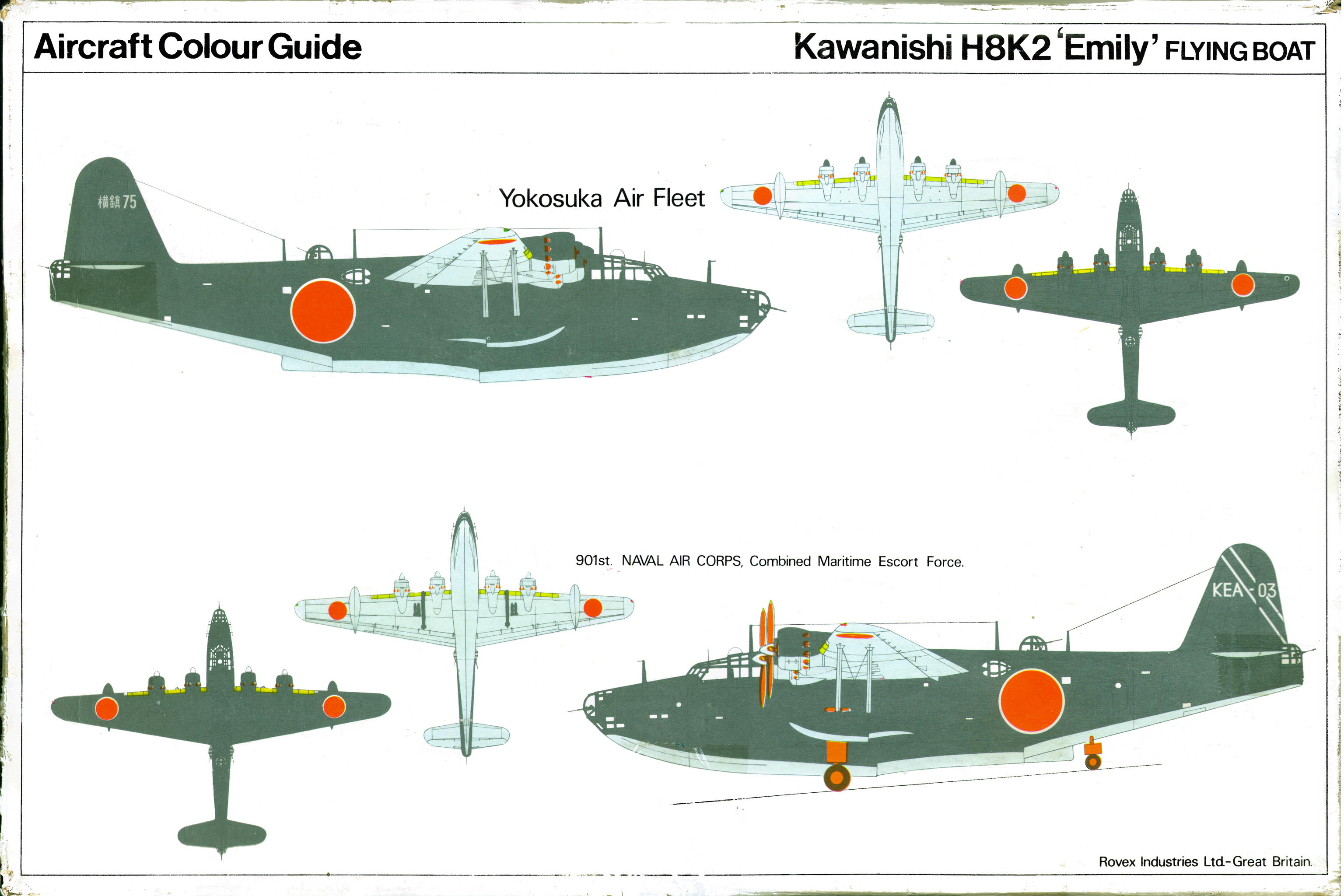 NEW AND IN VIEW NEW AIRCRAFT KITS
Emily flying boat
FROG. Other current releases include the Emily flying boat at 32|6, this being a re-boxed version of the original Hasegawa model which also has new, and excellent, decals.
The IPMS magazine, February 1969
Modelling world
by James Goulding
"The Frog "Emily"
When Hasegawa's 1 72nd scale kit of the Kawanishi H8K2 (Emily) flying-boat first became available in this country, the price was rather beyond the average modeller's pocket. Happily now the kit is available under the Frog label at the reduced price of 32s 6d and is a worthy addition to any collection of World War II aircraft. This is a highly-detailed, accurate, kit of this much-used Japanese flying-boat All control surfaces move, including the interesting double flaps. Entrance doors open, and alternative closed or open engine servicing bays are provided. Underwing stores, bombs and torpedoes, are included. The model is further enhanced by the inclusion of beaching gear, towing tractor and bar, and ground crewman.
My only points of criticism are of the marked areas for the national markings, and the attachments provided for the float strut rigging—which strike a rather juvenile note.
This is altogether an impressive model, and for me it highlights one of the fascinations of constant-scale modelling. Until this model was produced I did not appreciate just how big Emily was, although I have always been familiar with its shape. The flap design was also new to me. Transfers are provided for two different aircraft.

AIRCRAFT Illustrated, June 1969
Kawanashi H8K2 (Emily)
| | | | | |
| --- | --- | --- | --- | --- |
| F276 | 1969-1971 | G1 | 20000 | 2xJapanese Navy |
Ex-Hasegawa. The kit included a tractor, beaching trolley and ground crew.
---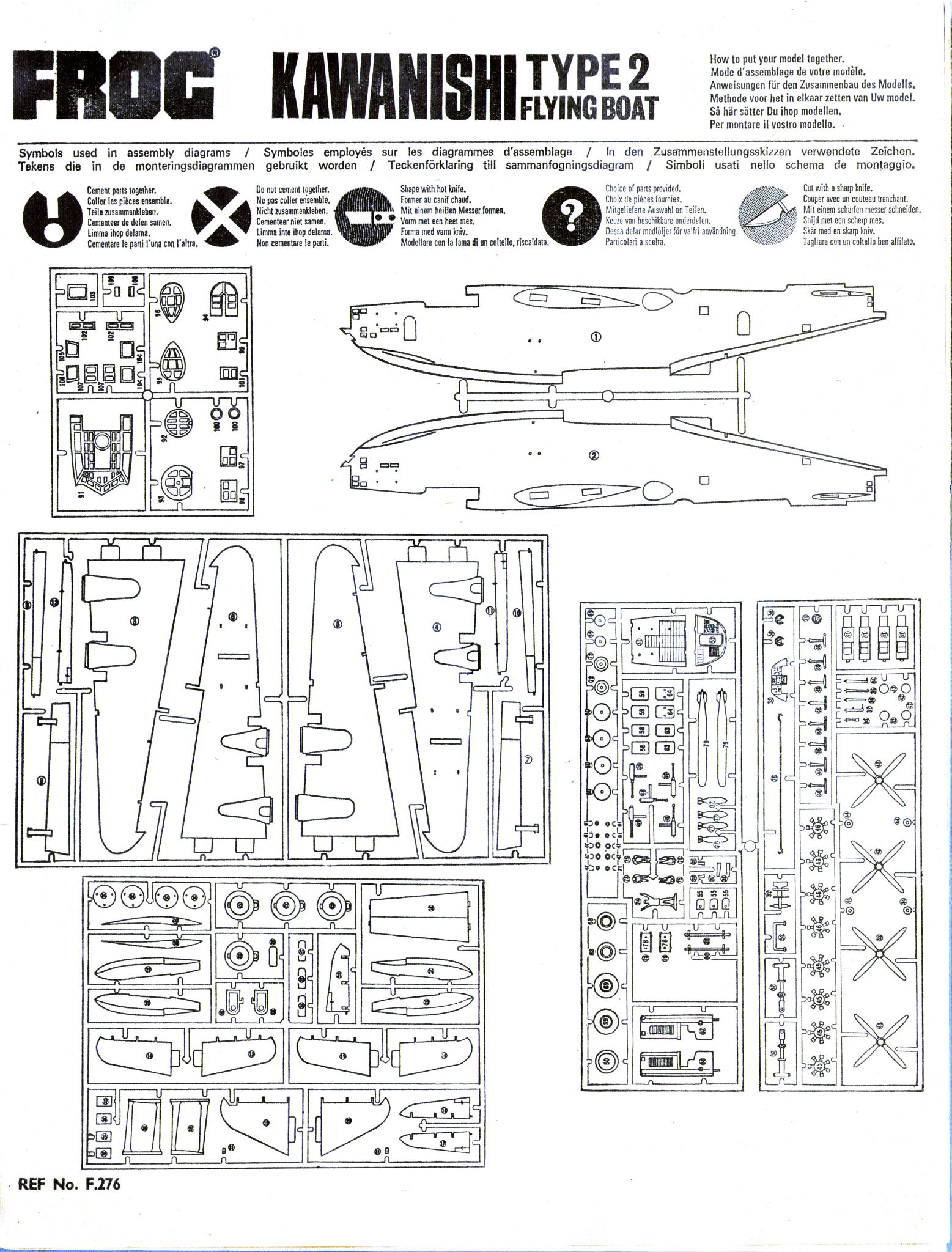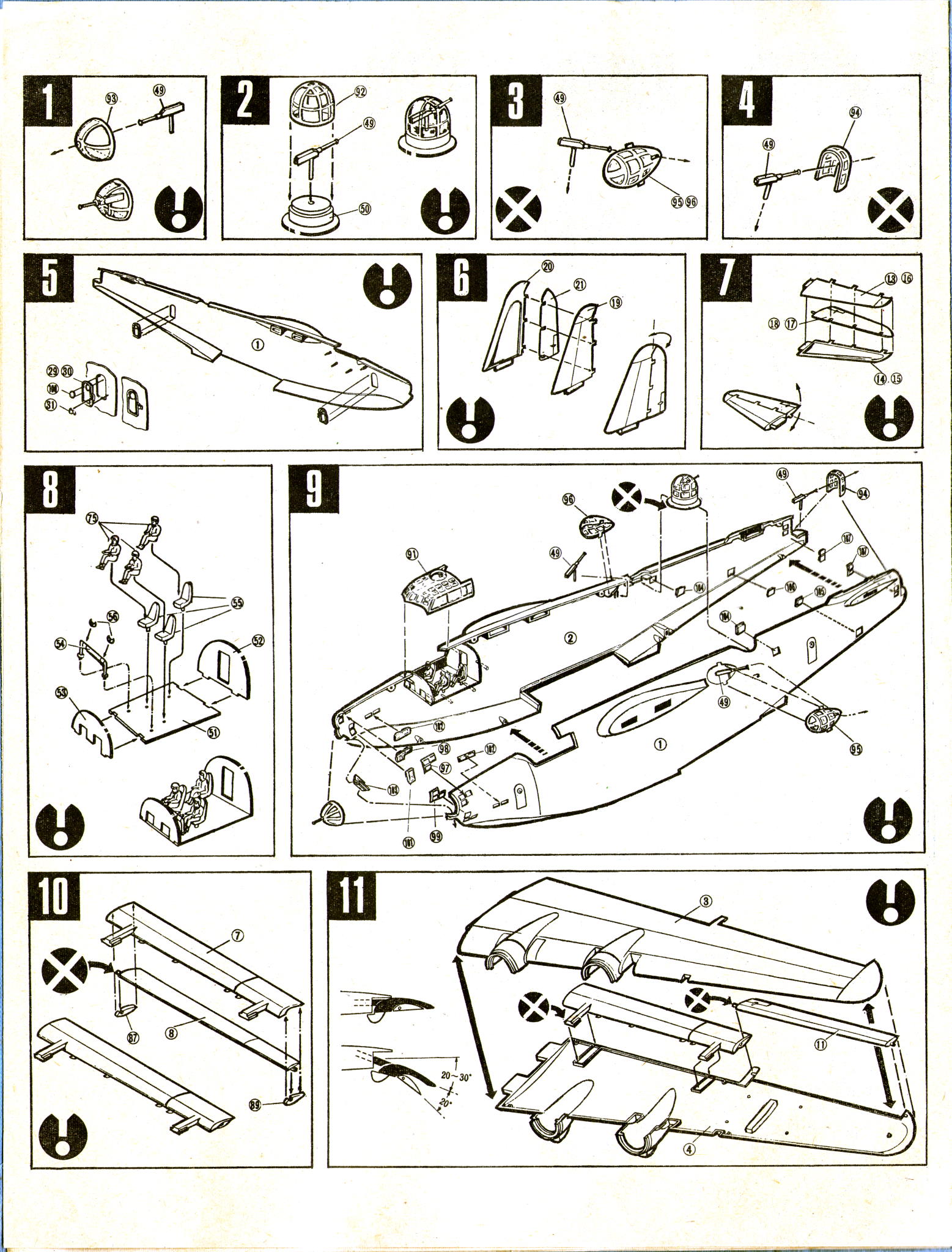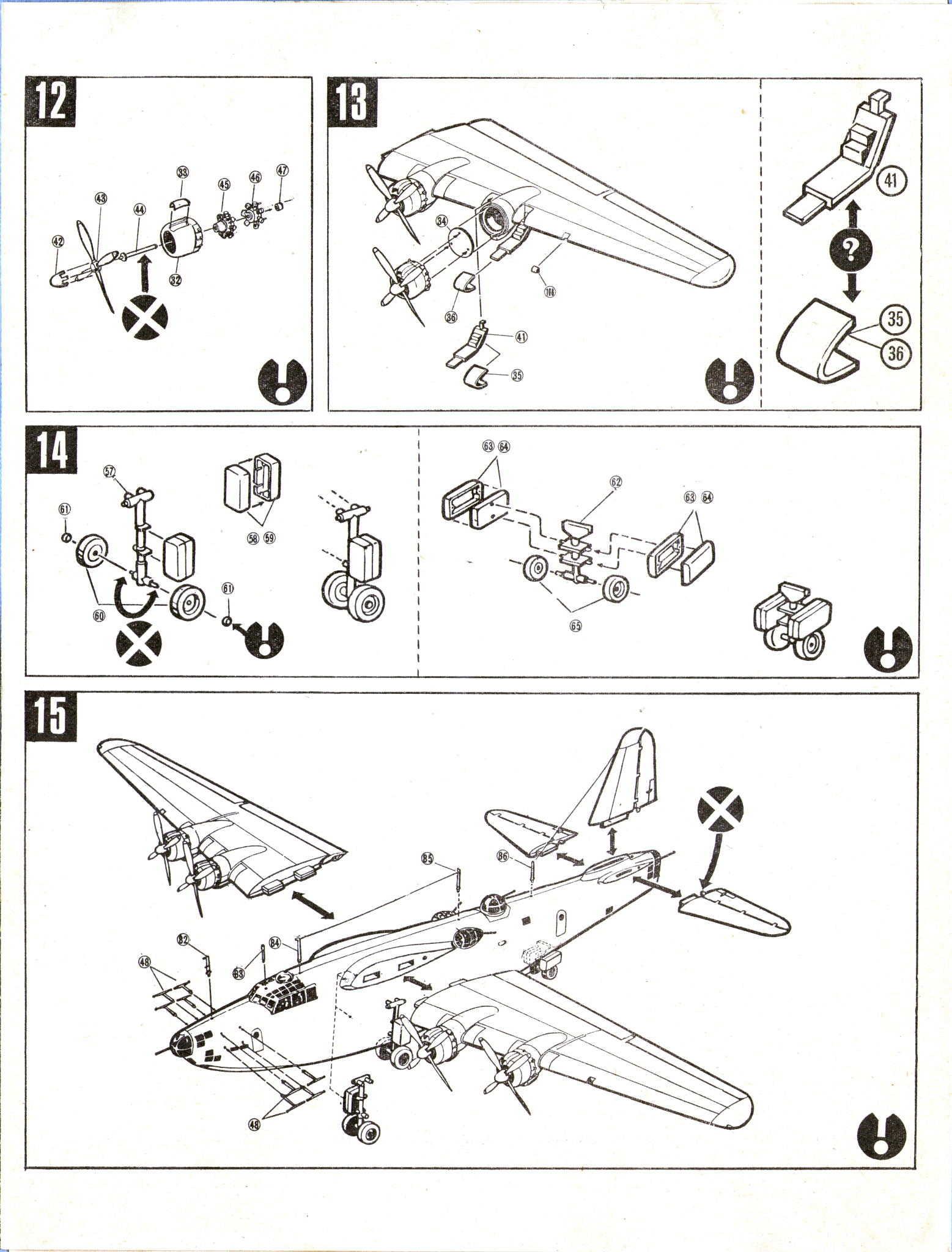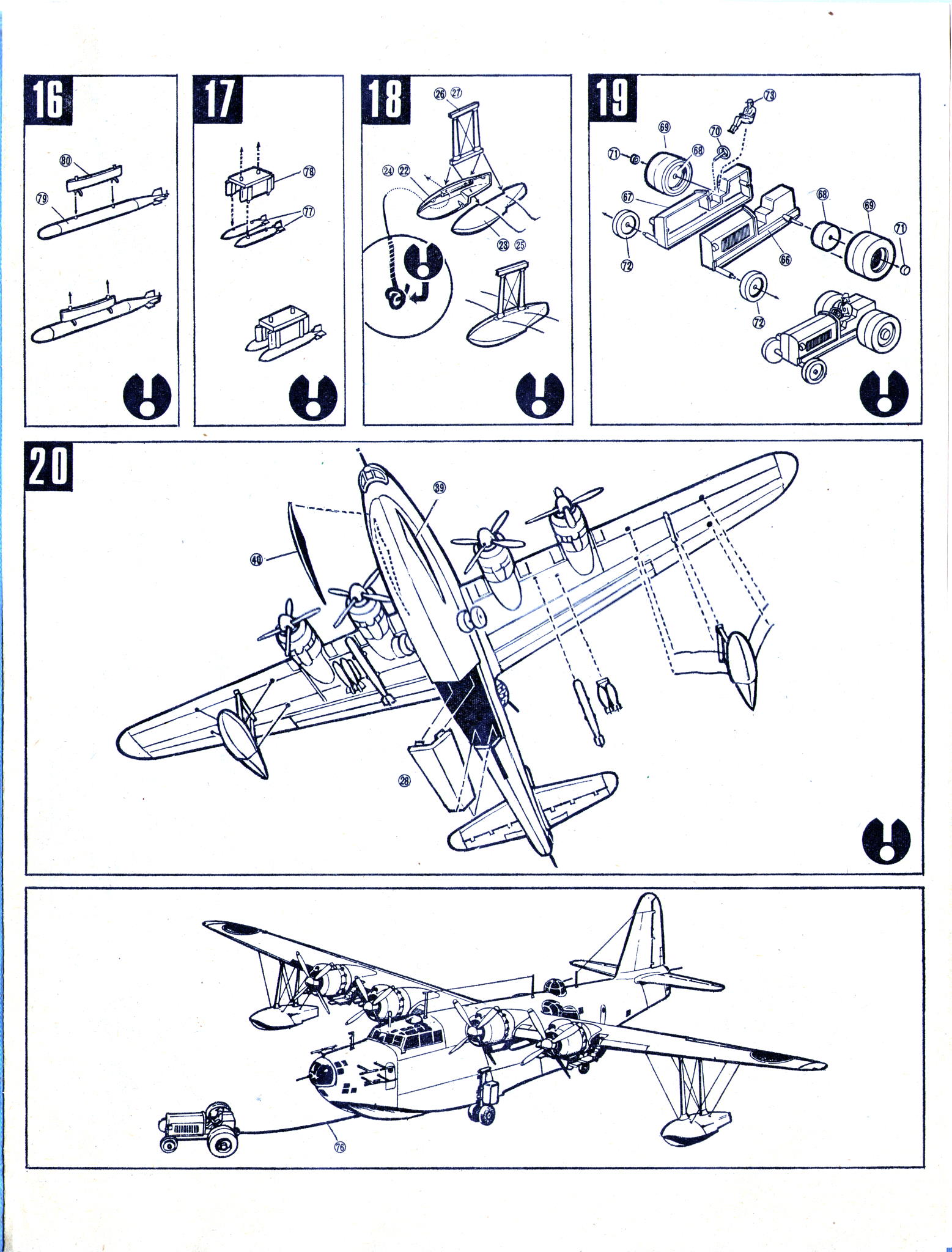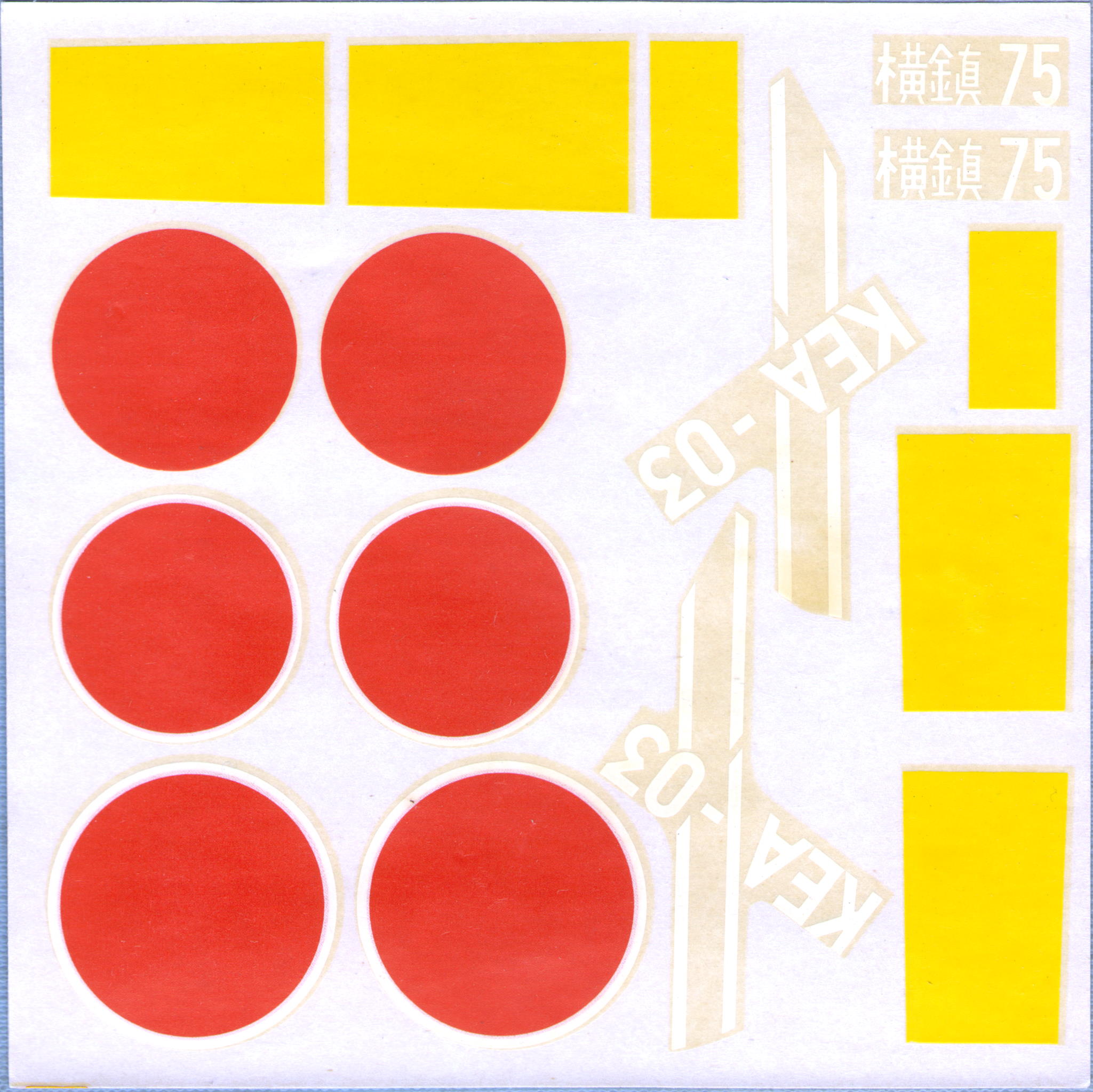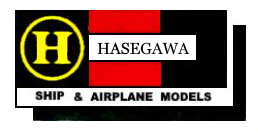 Hasegawa JS-21:1200, Kawanishi H8K2 Emily flying boat, 1967
ハセガワ 二式大艇 川西2 式飛行艇 12型 H8K2
---
1967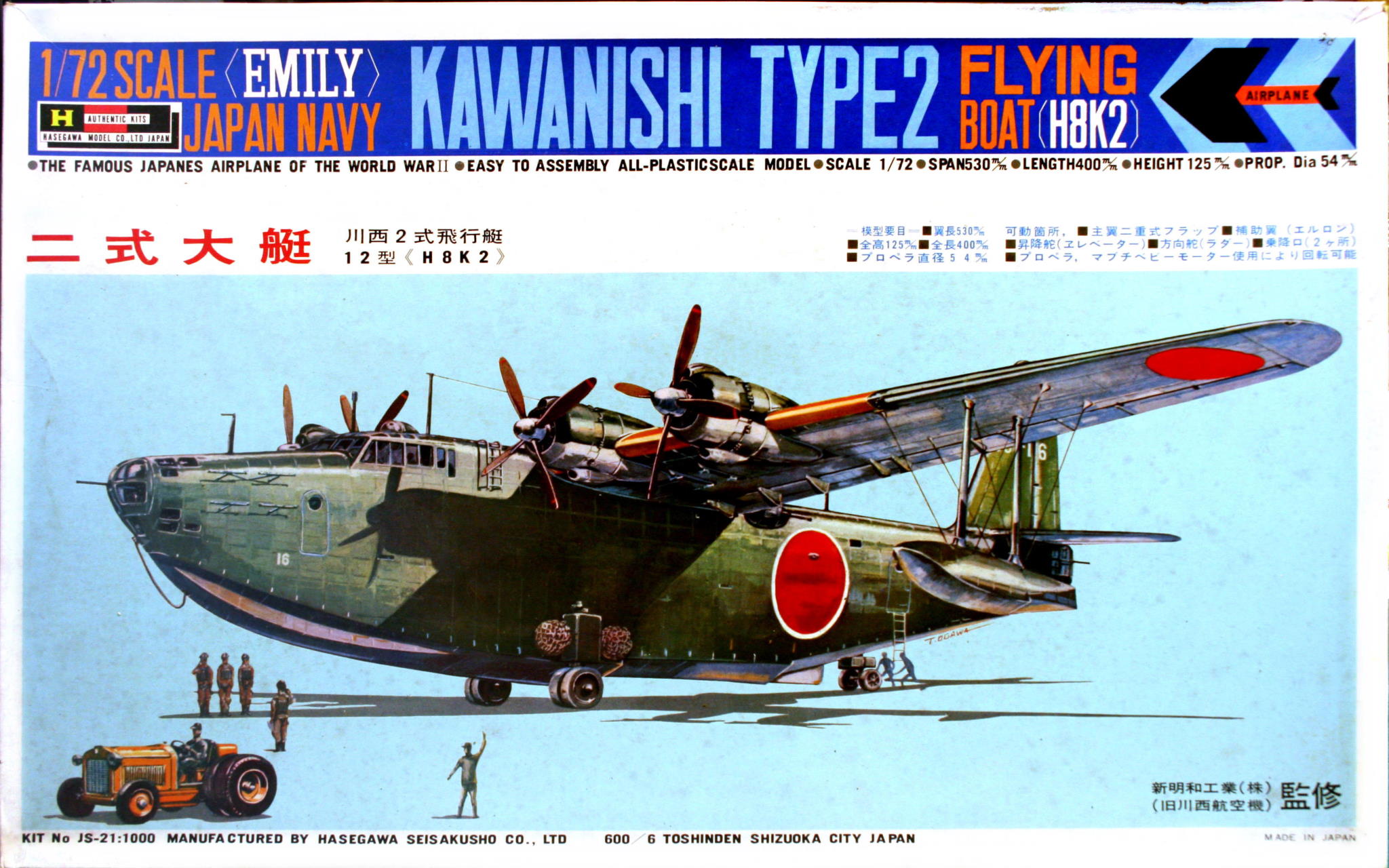 IN VIEW
Hasegawa (Japan)
It has now been confirmed that this company intend to release early in 1967 a 1/72 scale kit of the Kawanishi H8K-2 (Emily) flying boat. Hasegawa's standards have not always been of the highest in the past, but are improving and this model, which-will have a wing span of nearly 22 inches, could form a worthy companion for the Airfix Sunderland.
The IPMS magazine, march 1967
HONG KONG COMMENT by Colin Bramwell.
"Kawanishi Type 2 Flying Boat H8K2 EMILY
;Also from HASEGAWA is their Kawanishi Type 2 Flying Boat (H8K2) EMILY also to l/72 scale. The fuselage is a full inch longer than the Airfix Sunderland, without turrets. Each wing section is about 1 1/2" longer than the Sunderland, which should give some general impression of the size of this kit, which comes in a box that would just take Marusan's (or U.P.C.'s) l/50 Phantom.1 The cost in Japan is 1000 yen, equivalent to ?1.0.0. This was advertised by Hasegawa as a"World Masterpiece" which, let me say right off, it ain't! But, it is a damned good kit, once the rivet heads are sanded down; this is the only fault, and even so, the rivets are no larger (though, more widely spaced) than on Revell's Buffalo. Decals are semi-matt, with bright red, not vermillion, meatballs, yellow wing strips and a choice of 5 different white tail codes. The three crewmen, two ground crew and towing tractor are well handled, all control sufaces move, and the main flaps in particular look interesting in that they have a flap within the flap, both moving. Beaching wheels are included with massive simulated springs. All clear parts are very clear with frame members moulded oh the inside. There is plenty of internal detail around the cockpit, but elsewhere nothing, which is a pity as the fuselage doors open. The leading edges of the wings have optional parts so that the servicing platforms for the engines can be fixed in their extended positions, if required, or a normal leading edge fitted. Two torpedoes and four underwing bombs are given, and cord is included for the float bracing. Radar antennae are also included and part of the rear fuselage clips in, which seems to indicate that eventual motorising is contemplated. There are 109 parts to the kit which I am sure will make up into a very good likeness of Emily. Now all we want from Hasegawa is a companion Mavis!"
The IPMS magazine, march 1967
TRADE NOTES
BMW of Wimbledon who also sell what is probably the largest 1/72 model aircraft kit in production. Made by the Hasegawa Model Co., Ltd., of Japan the Kawanishi Type 2 (Emily) flying boat kit is one of the most detailed and impressive we have yet reviewed. Removeable wing panels reveal similar construction of the full size. There had been criticisms regarding the accuracy of this model, but comparatively little is known of the full size aircraft. Despite this we would rate it as one of the most exotic plastics we have seen. Retailing at £2 9s. 11 d. this is more than one usually pays for a plastic aircraft kit but having completed the finished article we think it well worth the extra if only for its rarity value.
AeroModeller APRIL 1968 Vol.XXXIII No.387
---
1969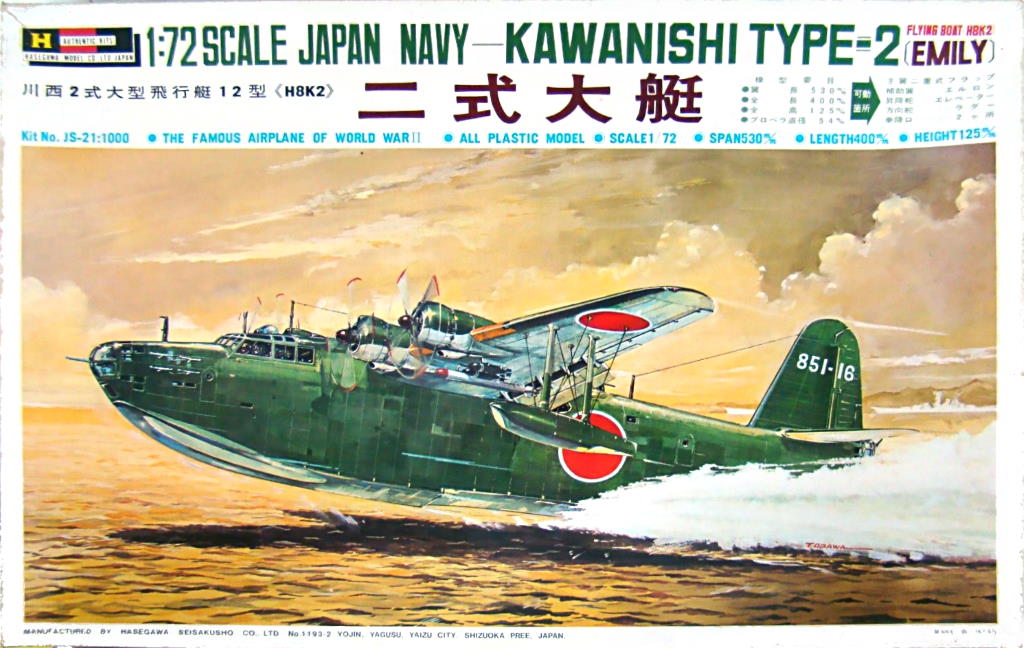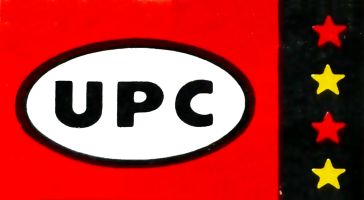 UPC 8051-600 Kawanishi H8K2 Emily, 1968-70
---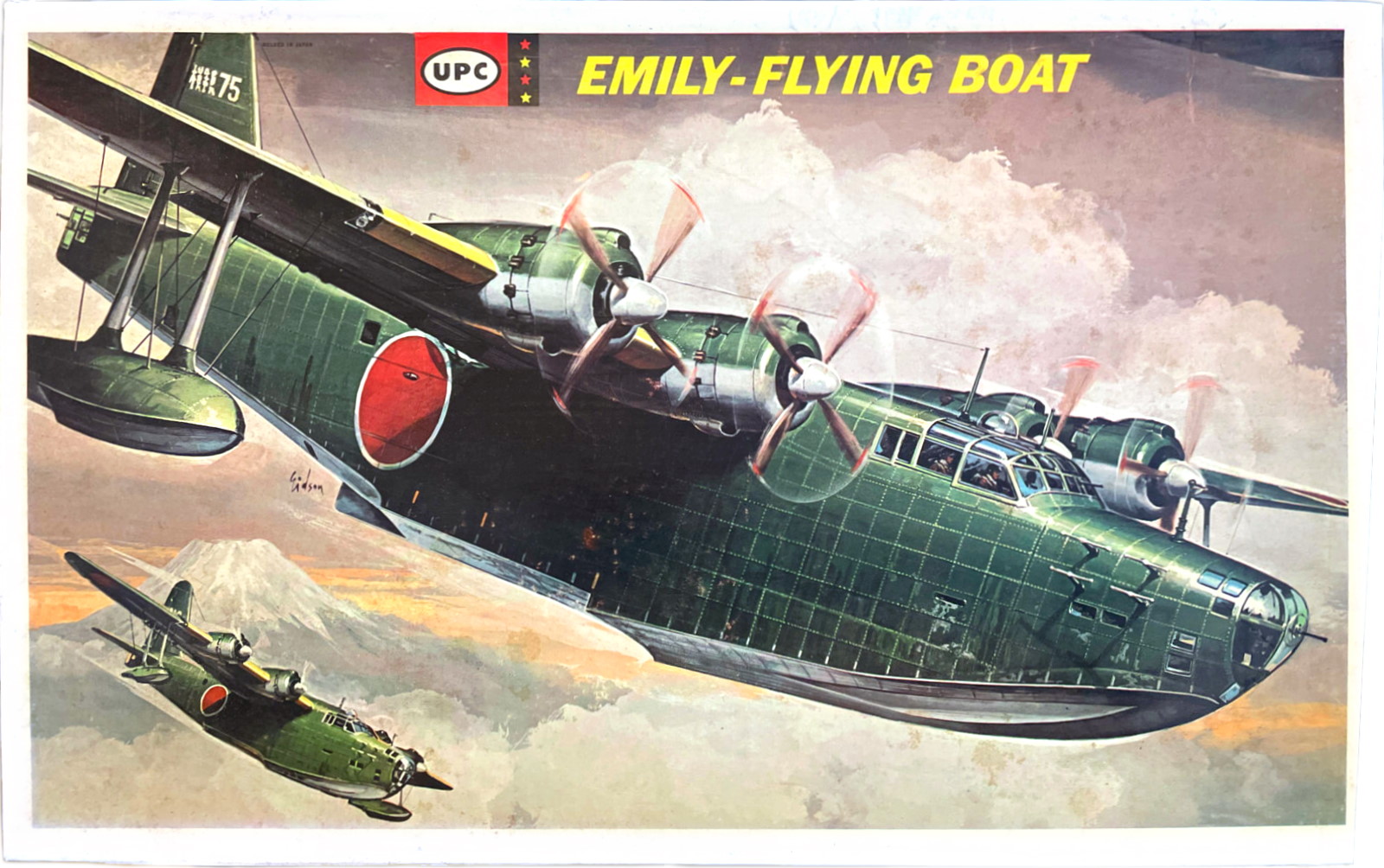 16.01.2020