FROG 399P de Havilland Dragon Rapide

FROG 399P de Havilland Dragon Rapide, International Model Aircraft ltd, 1959
---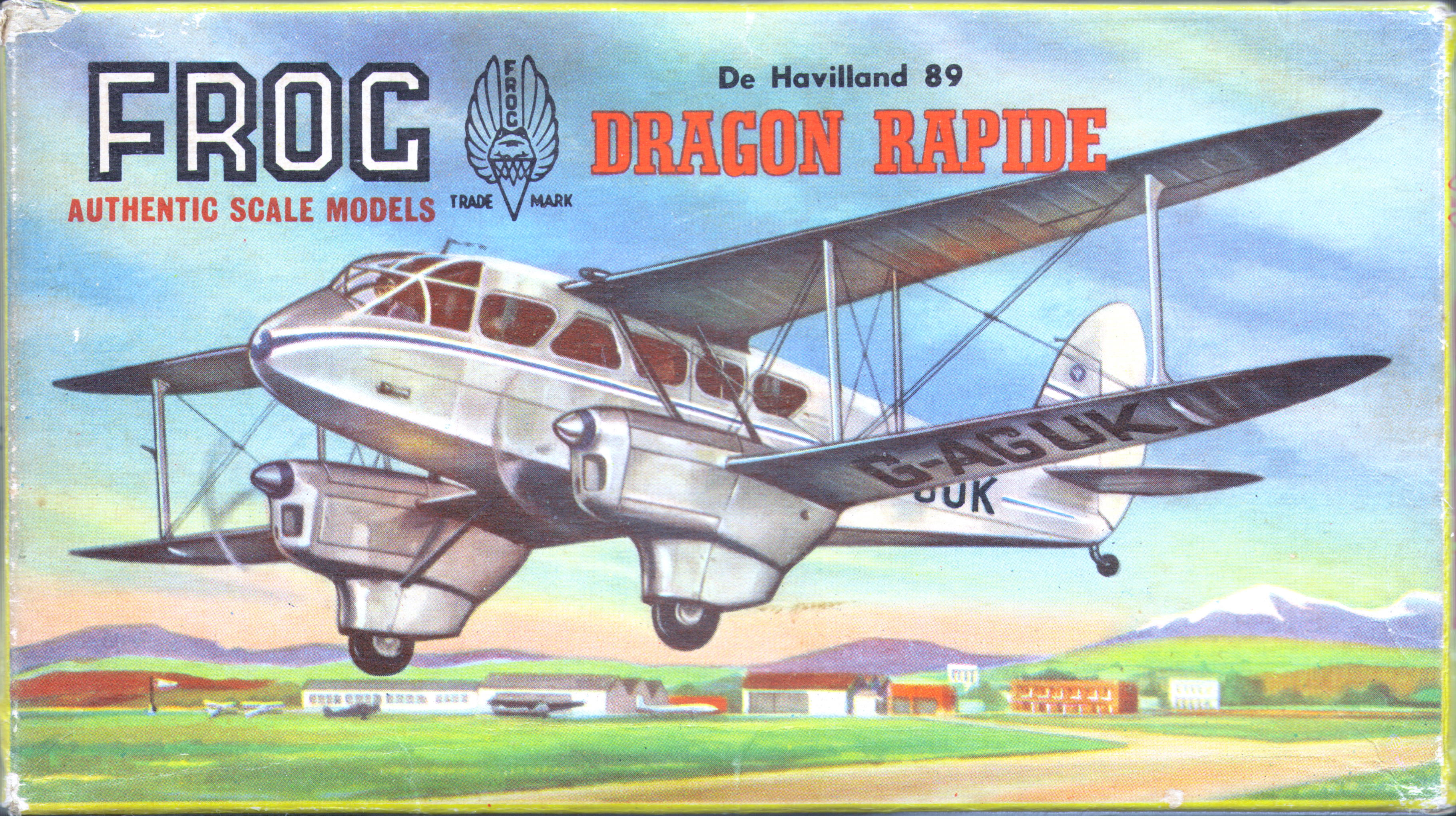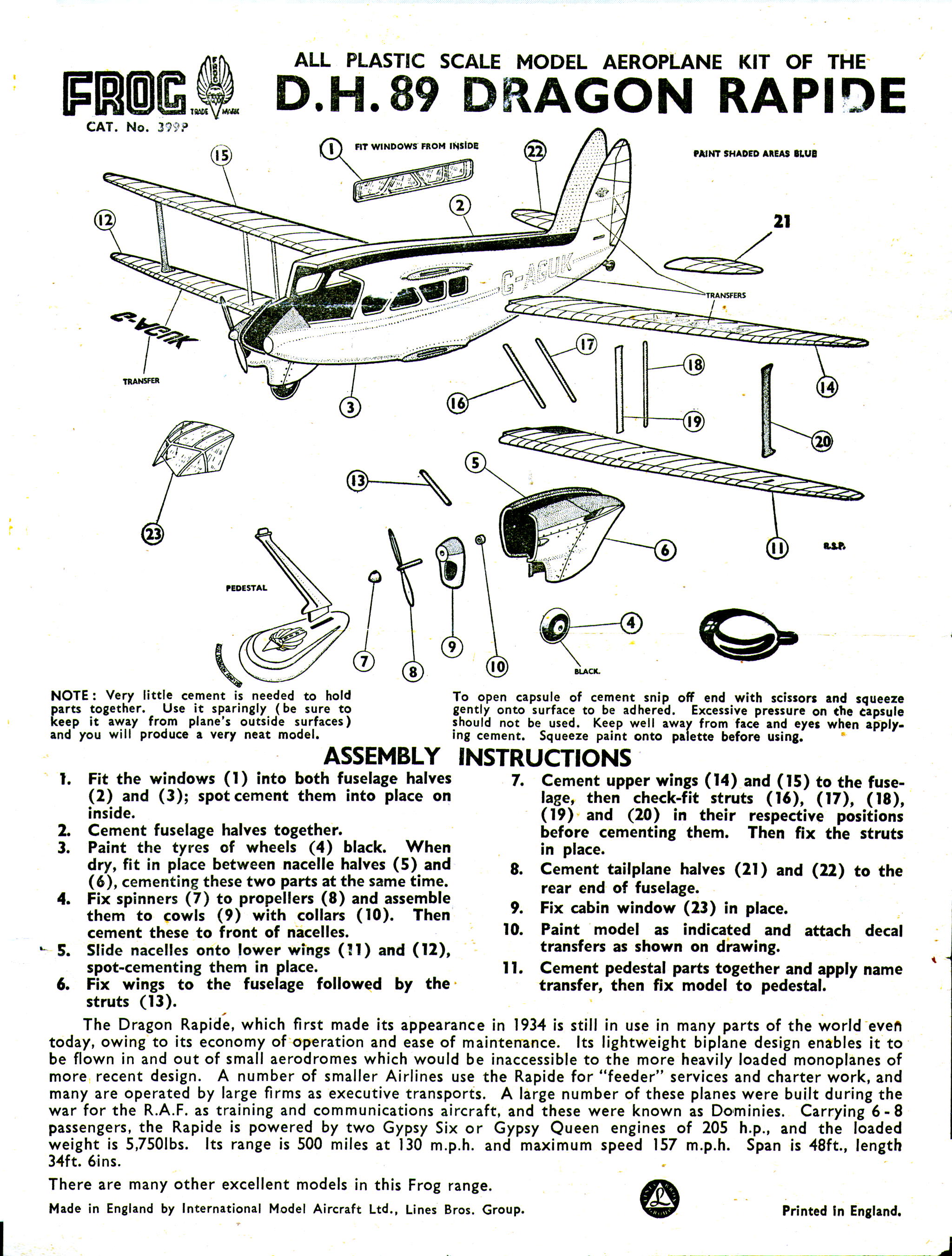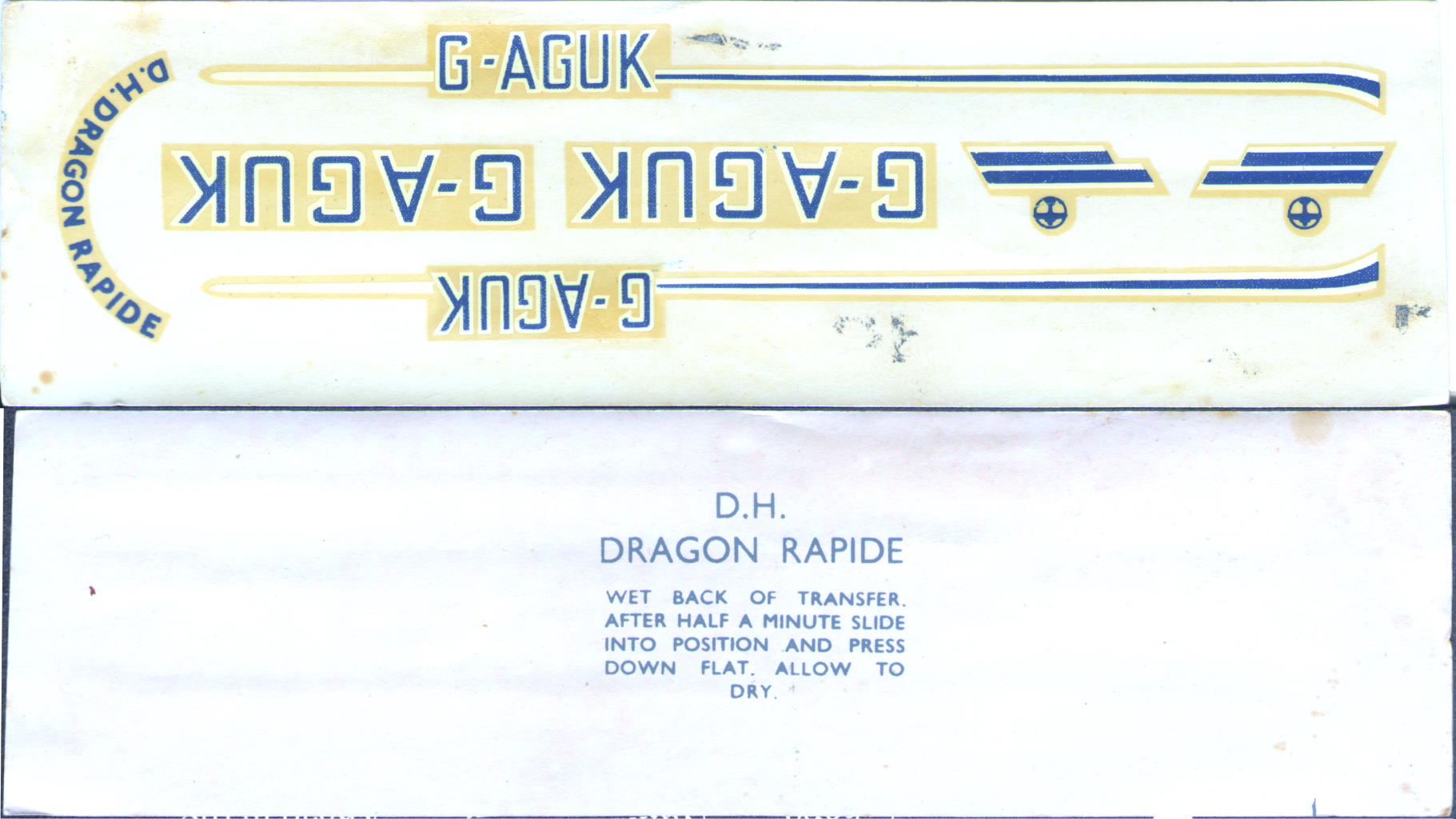 Trade Notes
Frog's l/99th scale Handley Page Hampden and 1/115th Wellington are attractive W.W. II additions to their 3|6 range of plastics, while the Dragon Rapide (l/68th) joins the range as a "civvy" and the Lancaster (1 /96th) comes at 6|6. The pity of the new series, beside the scale variations, is the apparent lack of research for authentic markings. With the Lancaster we have a choice of WP or VN for 90 or 50 Squadrons with correct disposition of the letters: but scale adherents will positively cringe at the thought of putting G-AGUK on their Dragon Rapides for that was the dismantled Lancaster with Lancastrian nose observed by so many modellers when Northern Heights Gala was held at Langley! So if you have both kits, you could paint the Lancaster silver as "Star Gold" in the British South American Airways fleet and use the fictitious "Rapide" transfers!
When such colourful Rapides as 'HKV in Automobile Association black and yellow, 'HLL, 'FEZ, 'HKU in B.E.A. maroon, white and silver, or OO-AFG in Avions Fairey's flame and white are so well known, it seems incredible that the manufacturers should not take advantage for sales appeal. Other than these points, International Model Aircraft Ltd. are to be congratulated on a really fine plastic model of the Queen of biplane airliners.
AeroModeller 1960-03"


Over the counter
Received just in time for this feature are the latest kits from I.M.A. For only 3s. 6d. there is a beautiful kit for a 1/68 scale De Havilland 89 Dragon Rapide. This excellent and original choice builds up into one of the most delightful plastics we have seen for a long time. There is lots of scope for the ingenious modeller to add interior detail and, of course, there are many colour schemes from which to choose. (See Here & There page 64.)

Here and There
De Havilland Lancaster?
WHY oh why do reputable manufacturers, after spending considerable sums of money on accurate moulds for their plastic kits, continually include inaccurate or fictitious markings ?
We seem to be getting over the spate of G-BOAC registrations on every other new airliner kit, but now Frog have perpetuated the crime with their otherwise excellent D.H.89 Rapide (see Over the Counter).
The transfers with this model read G-AGUK, but this registration really belonged to Lancaster "Star Gold" (serial P.P.688) of B.S.A.A.
A most colourful authentic scheme for the Rapide would be that still used by the Automobile Association on their aircraft—yellow and black, with registration G-AHKV, or, of course, as B.E.A. still use Rapides on their Scilly Isles to Land's End run, the model could be finished in their livery.
MODEL AIRCRAFT March 1960"

Model Talks
WELCOME BIPLANE:
"For over a quarter of a century the basic shape of the de Havilland Dragon Rapide has remained unchanged. Frog have shown a great deal of imagination in adding this well-loved biplane to their series of plastic kits. The model (price 3s. 6d.) is just over l/72nd scale (1/69 to be precise).
It is a pity that this company, which produces such high quality kits, should spoil them for a ha'porth of transfers. Even before I had received a kit from Frog, a spokesman had phoned me up and told me that the registration number supplied with the kit, " G-AGUK," never, in fact, belonged to a Rapide, but to a Lancastrian. Nor could I trace any note of shame in his voice as he told me this.
A colourful and authentic present-day version of the Dragon Rapide is " G-AHKV," which belongs to the Automobile Association and flies around resplendent in the AA's vivid yellow and black colours. As the photographs on this page show, the top of the wings, top and bottom fuselage and tail-plane are black and the fuselage sides and undersides of the wings are yellow. Markings are yellow on black, and vice-versa. If you want an exact colour match you will only have to go to your nearest main road and wait for an A A man to come along. His motorcycle will be in exactly the same colours as the Dragon Rapide.
Geoffrey Norris
RAF Flying Review May 1960 Vol XV, No.9"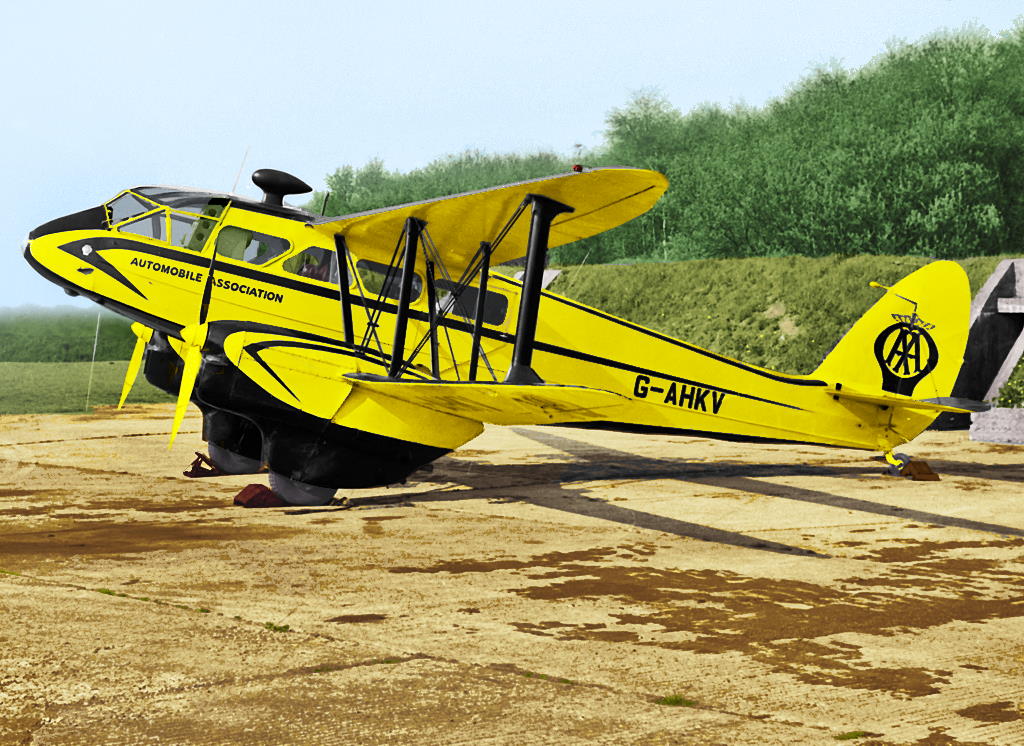 FROG model aircraft 1932-1976, R. Lines, L. Hellstrom

399P de Havilland Dragon Rapide, Tri-ang, 1962,
---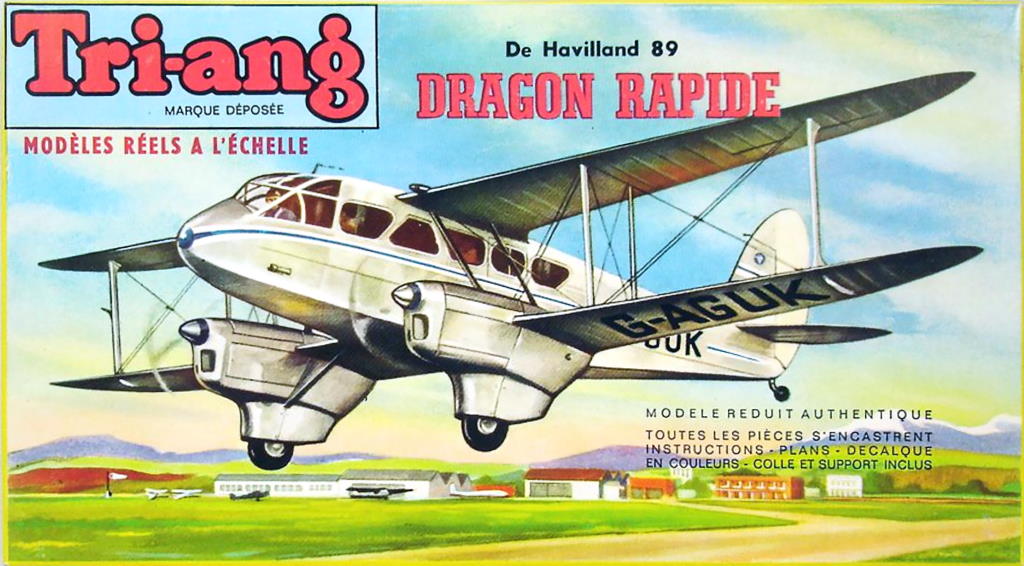 14.09.2019