North Amrican P-51A, RAF Mustang Mk.II

FROG F196F North American Mustang Mk.II, Rovex, bagged edition, 1970 july
---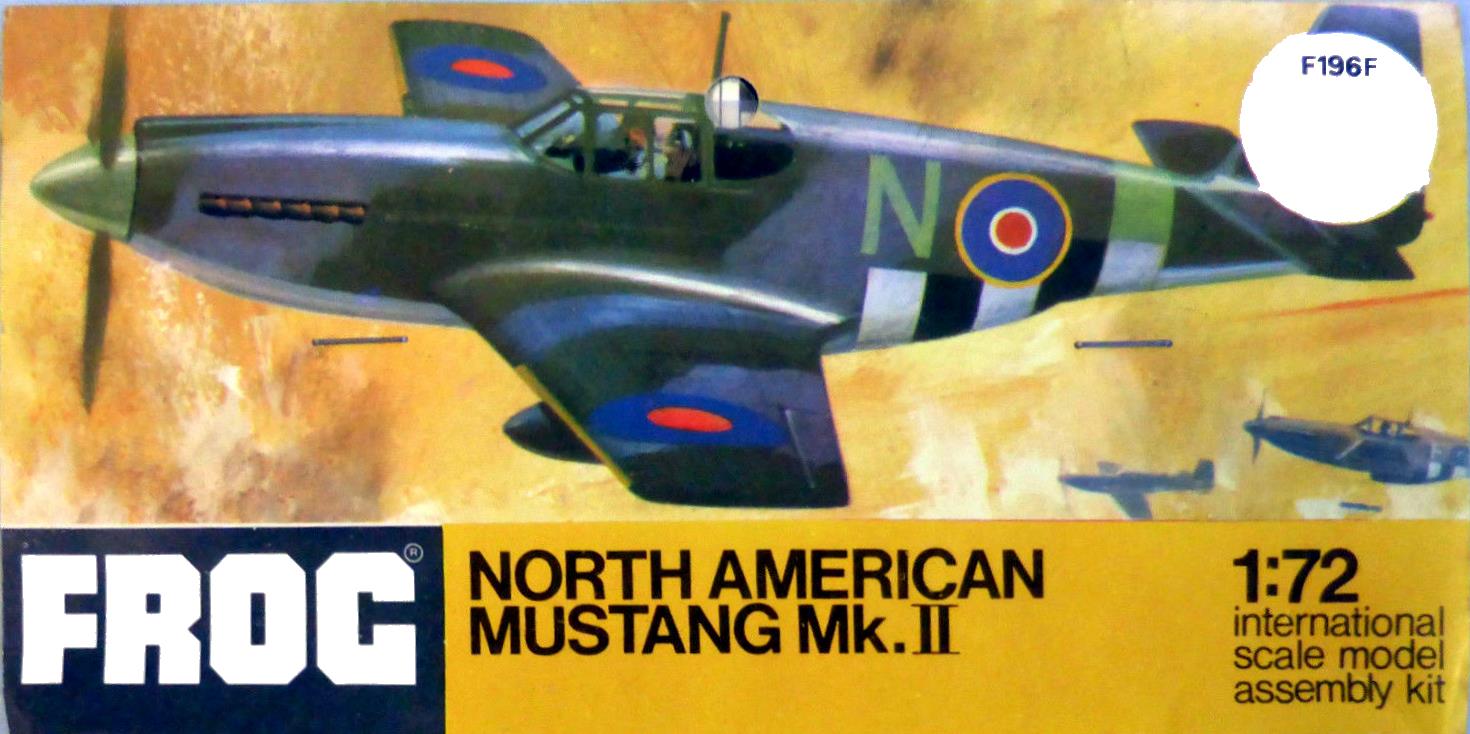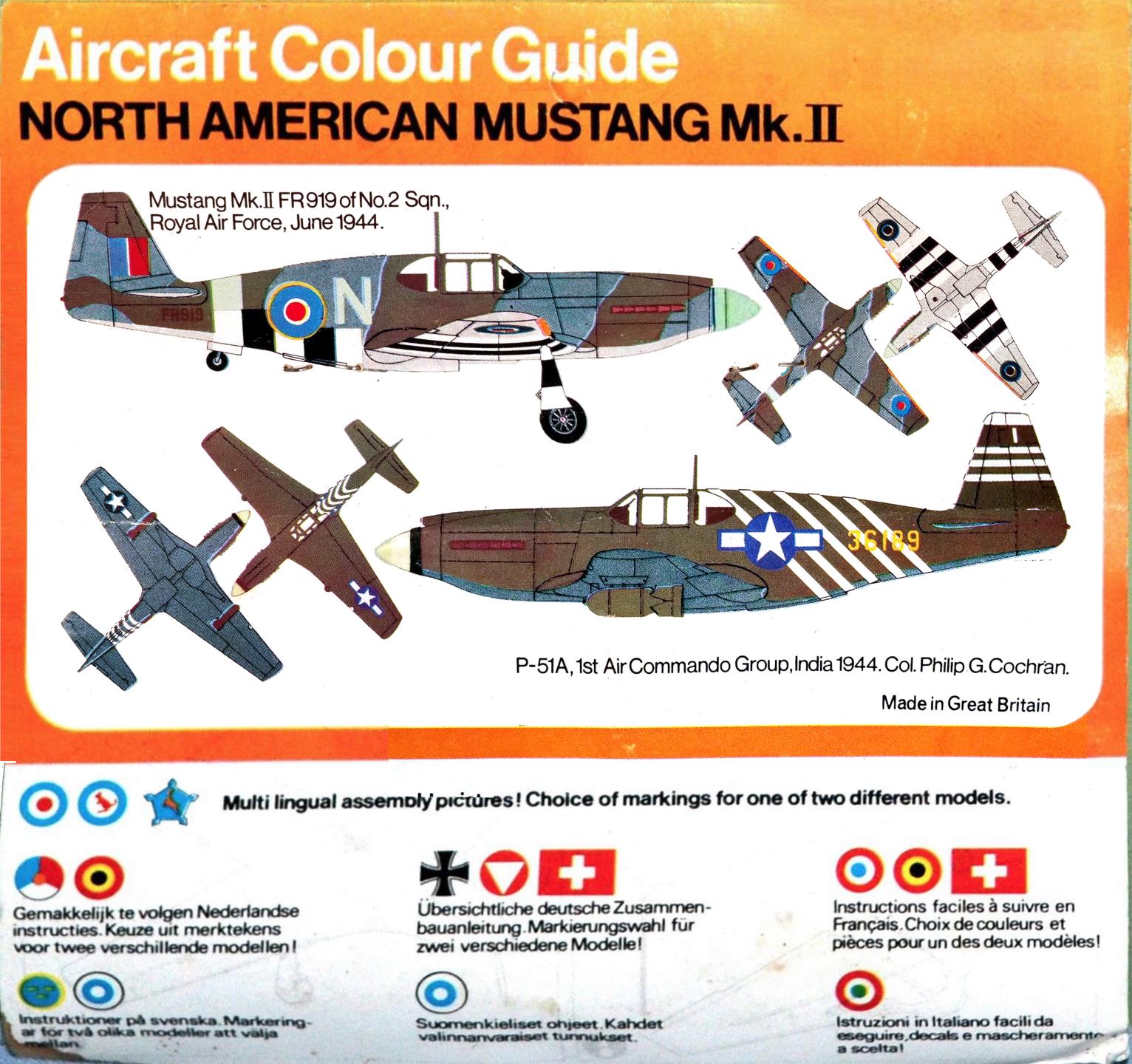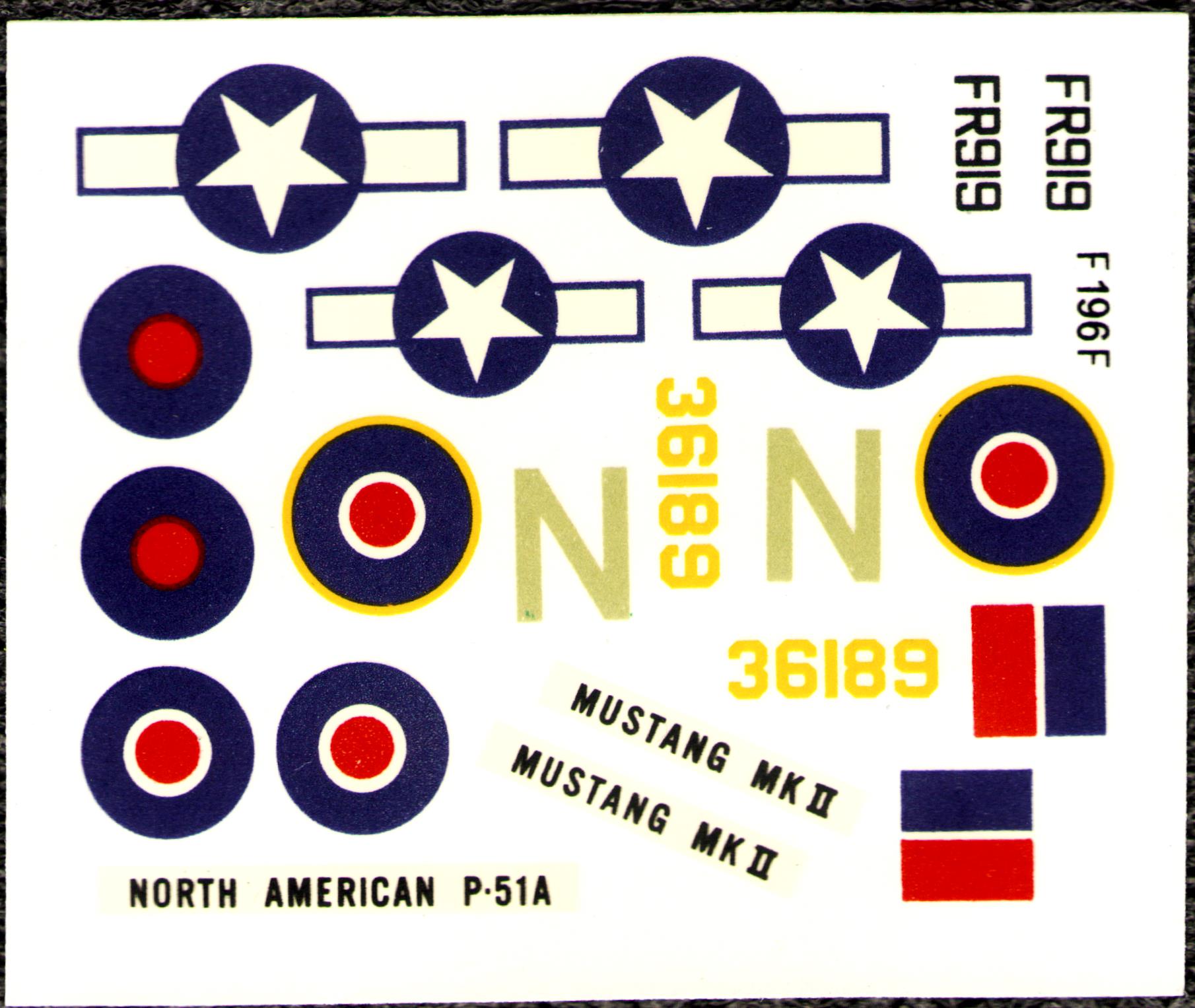 "Stop-press
News item is that Frog has released a 1/72 kit of the Allison-engined NA Mustang, containing transfers for a USAAF P-51A and also a RAF Mustang II. More details next month, but meantime here is a photo of some Allison-powered Mustang Is of 2 Sqn at Sawbridgeworth, Essex, in July 1942.
M.S.J.R.
Modelling World
Aircraft Illustrated 1970 aug"
"FROM FROG
The same might be said of the P-51A Mustang, also released by Frog and a fine companion to the late - mark Mustangs produced by other kit makers. The panel detail on this kit is raised, not recessed, which is the only minor criticism. This is much less obtrusive, however, when the model is painted and it can, in any case, be rubbed down quite easily. Characteristic wheels and canopy are particularly well done on this model, and as usual there are two sets of markings — either for a No 2 Sqn RAF machine or Colonel Cochrane's famous 1st Air Commando Group aircraft, USAAF. Price is 3s.
C.O.E."

1970-09 Airfix magazine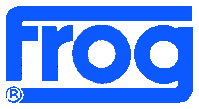 FROG F427 Mustang P-51A (Mk.2) Fighter reconnaissance, Rovex Models and Hobbies, 1974
---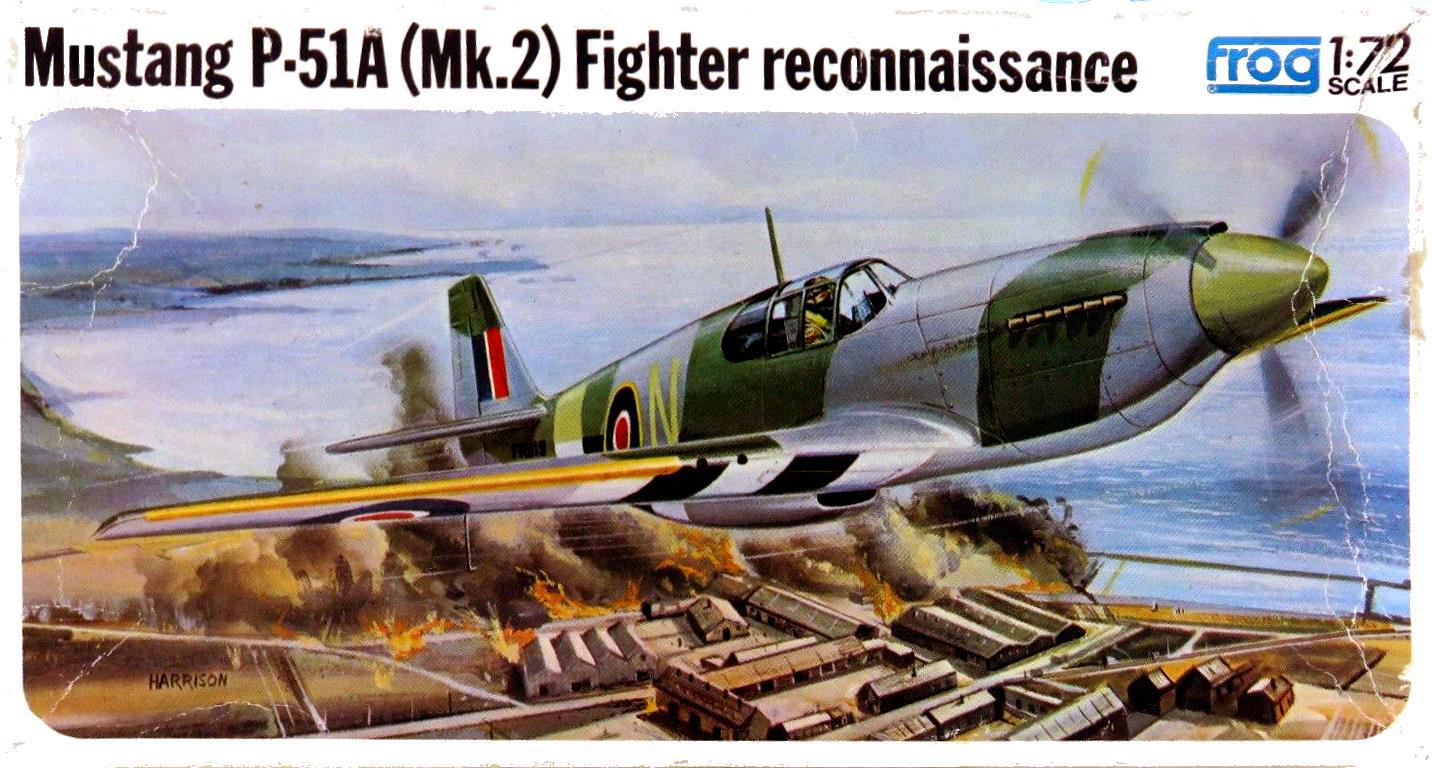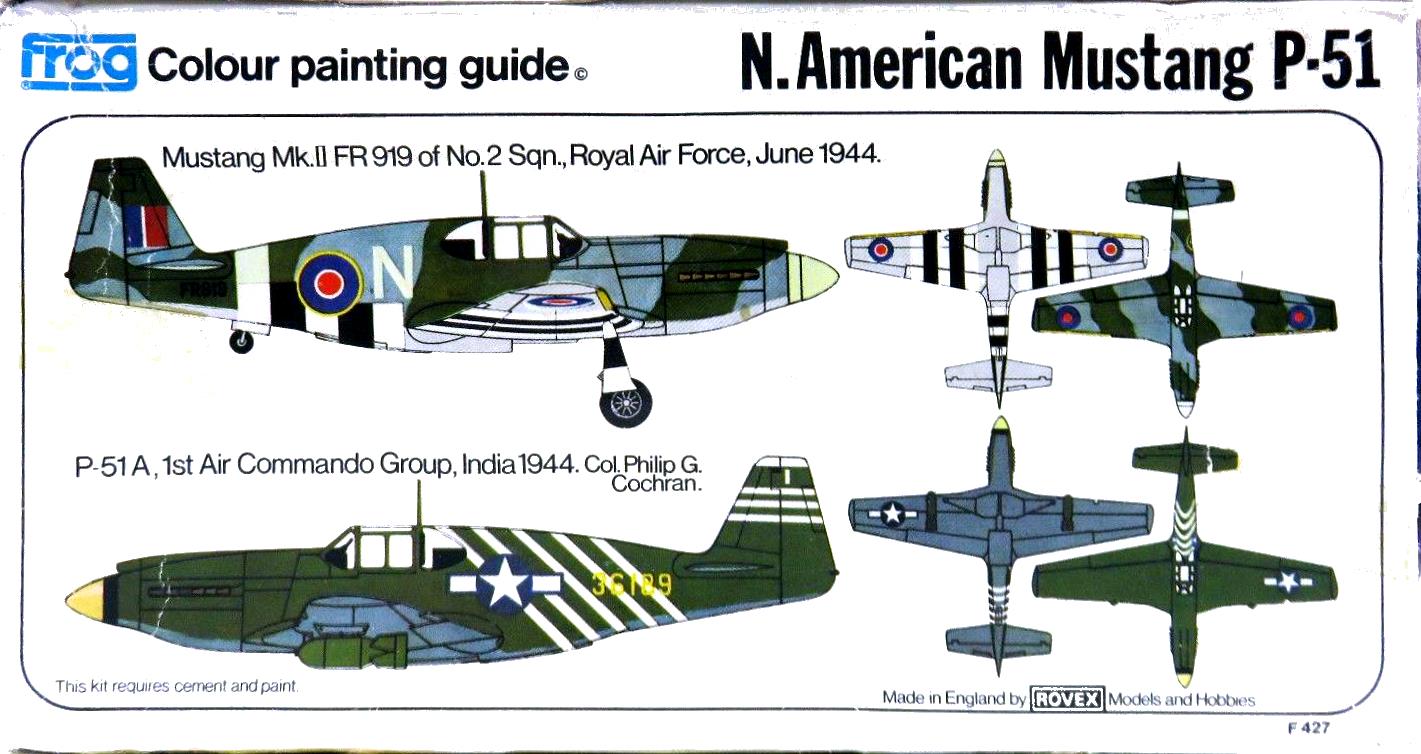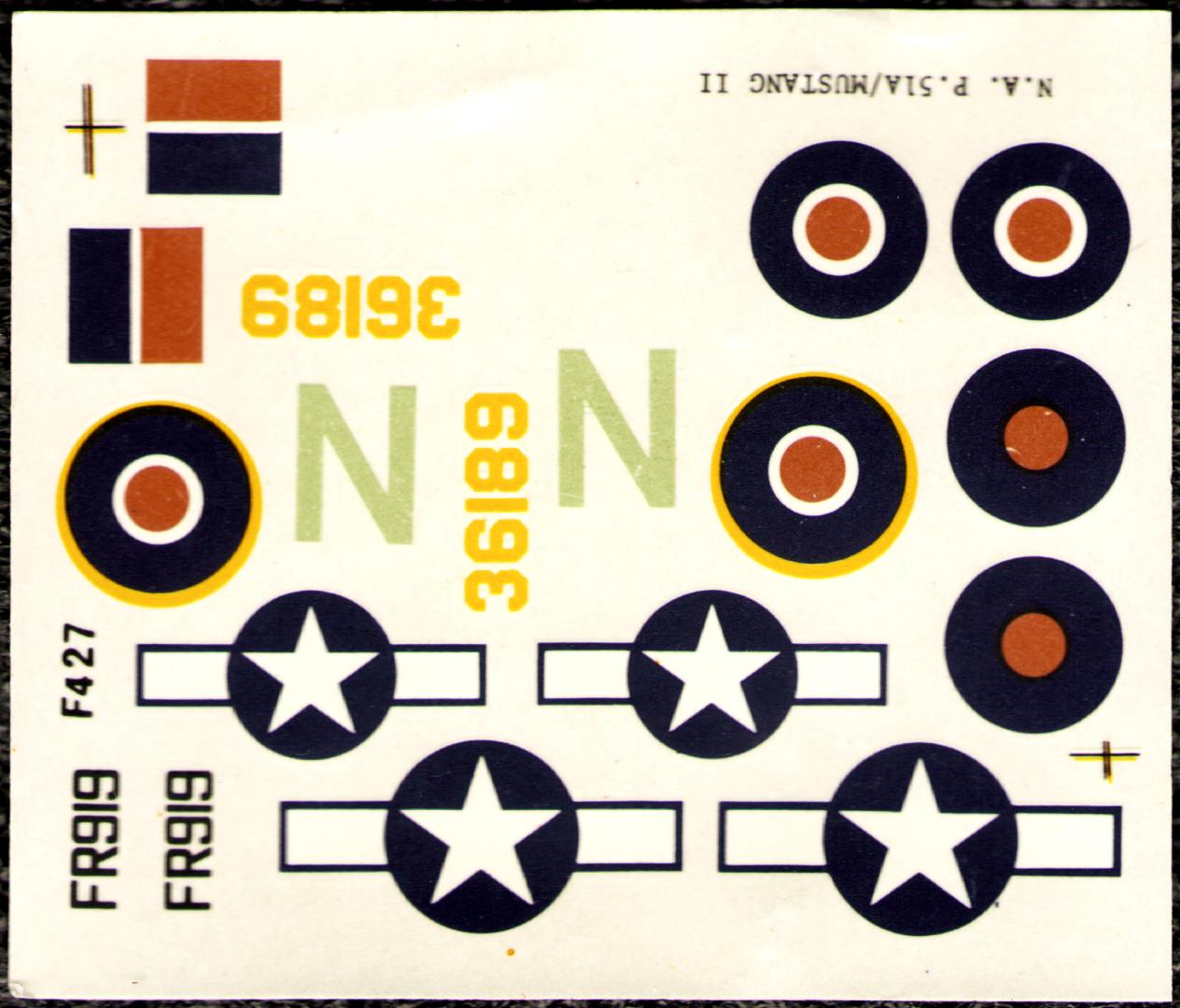 "Frog's P-51A Mustang Frog has, I believe it is true to say, produced the first 1/72 scale kit of the Allison-powered P-51A version of North American's superb Mustang fighter. This is indeed a welcome addition to our collections, and Frog is to be congratulated on choosing tins lesser-known, and featured, variant. There is too often an emphasis on the most widely-known and hackneyed variants in kits.
Unfortunately, once again, this kit has moulding and design faults, which mar an otherwise nice model. Both of these major faults can be rectified with care. Something has gone wrong with the moulding of the fuselage or canopy, for there is a step down in the top fuselage contour when it meets the cockpit canopy. Luckily, there is enough wall thickness to file down the fuselage level with the canopy. The contours of the lower part of the engine cowling are not correct, and building up the correct shape with body putty makes all the difference to the appearance of the model.
Some rather ugly gaps are left by the bad fitting of some of the mouldings, but these are easily filled. These criticisms apart, this is a very pleasing little model which is completely in character with the full-size aircraft. It looks right, and is one of the best Mustangs yet.
The undercarriage legs and doors are delicate and well-detailed, and the wheels look convincing. The propeller is a great improvement on those in the Tomahawk and Whitley kits.
I would have liked to have seen more emphasis on the Mustang's special reflex wing sections, which are such a feature of the aircraft.
The transfers are for a P-51A of the 1 st Air Commando Group, USAAF in India, and a Mustang II (FR919) of 2 Squadron, Royal Air Force.
This is a model that will lend itself to conversion to a number of the earlier variants, including the original Rolls-Royce Merlin test beds.
Price of this kit is 3s 6d.

M.S.J.R.
Modelling World
Aircraft Illustrated 1970 sep"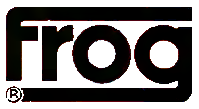 FROG F196 Mustang P-51A (Mk.2) Fighter reconnaissance, Rovex Models and Hobbies, 1976
---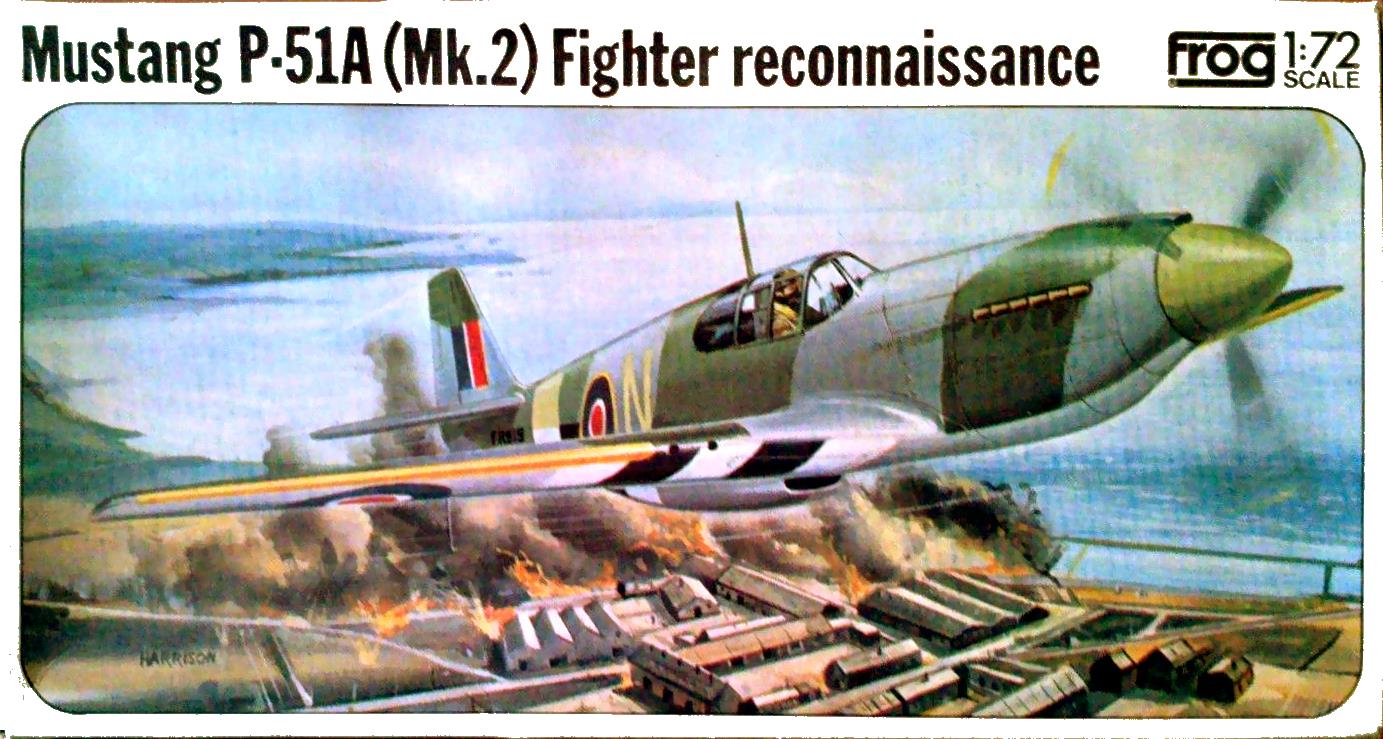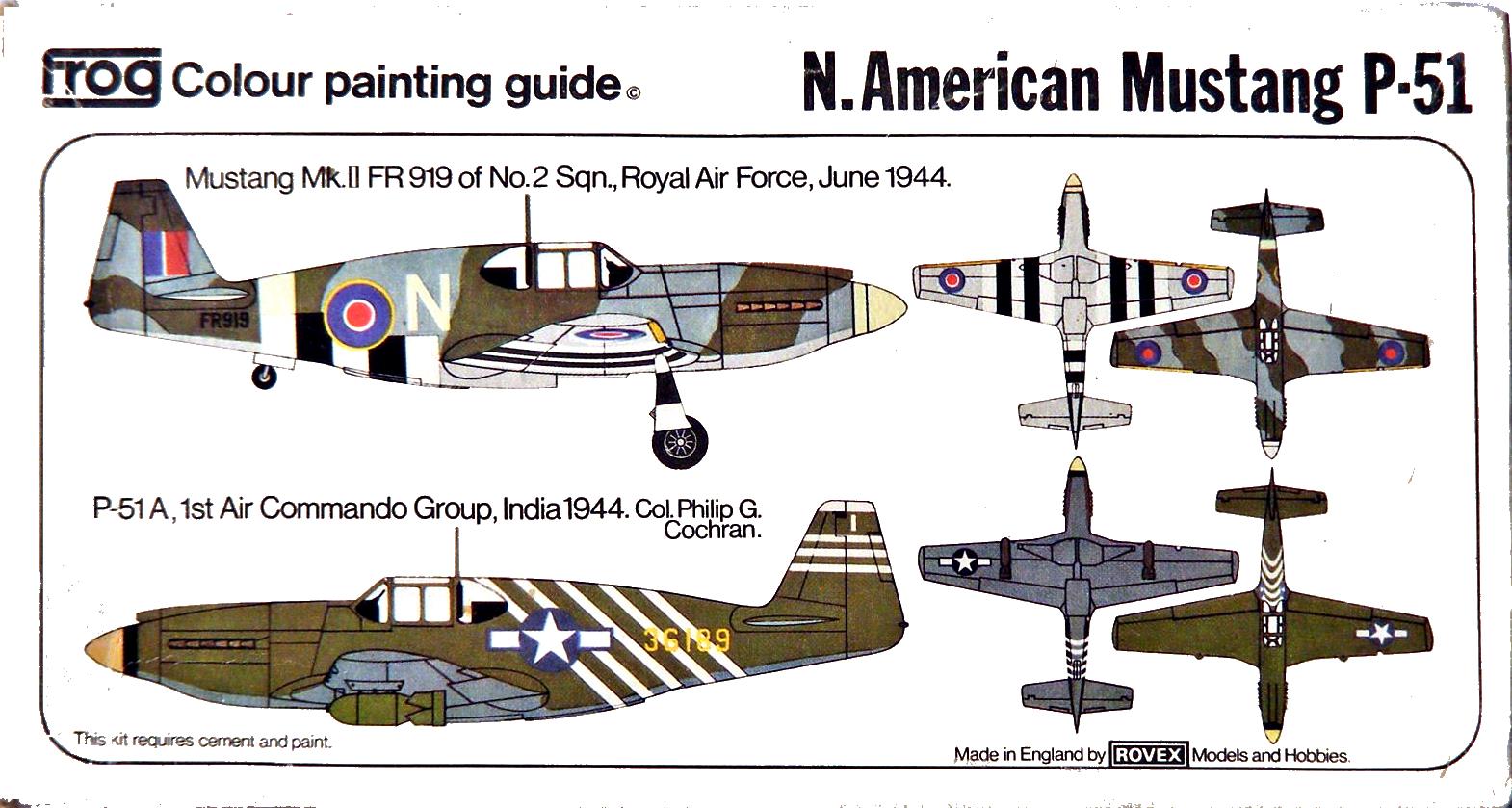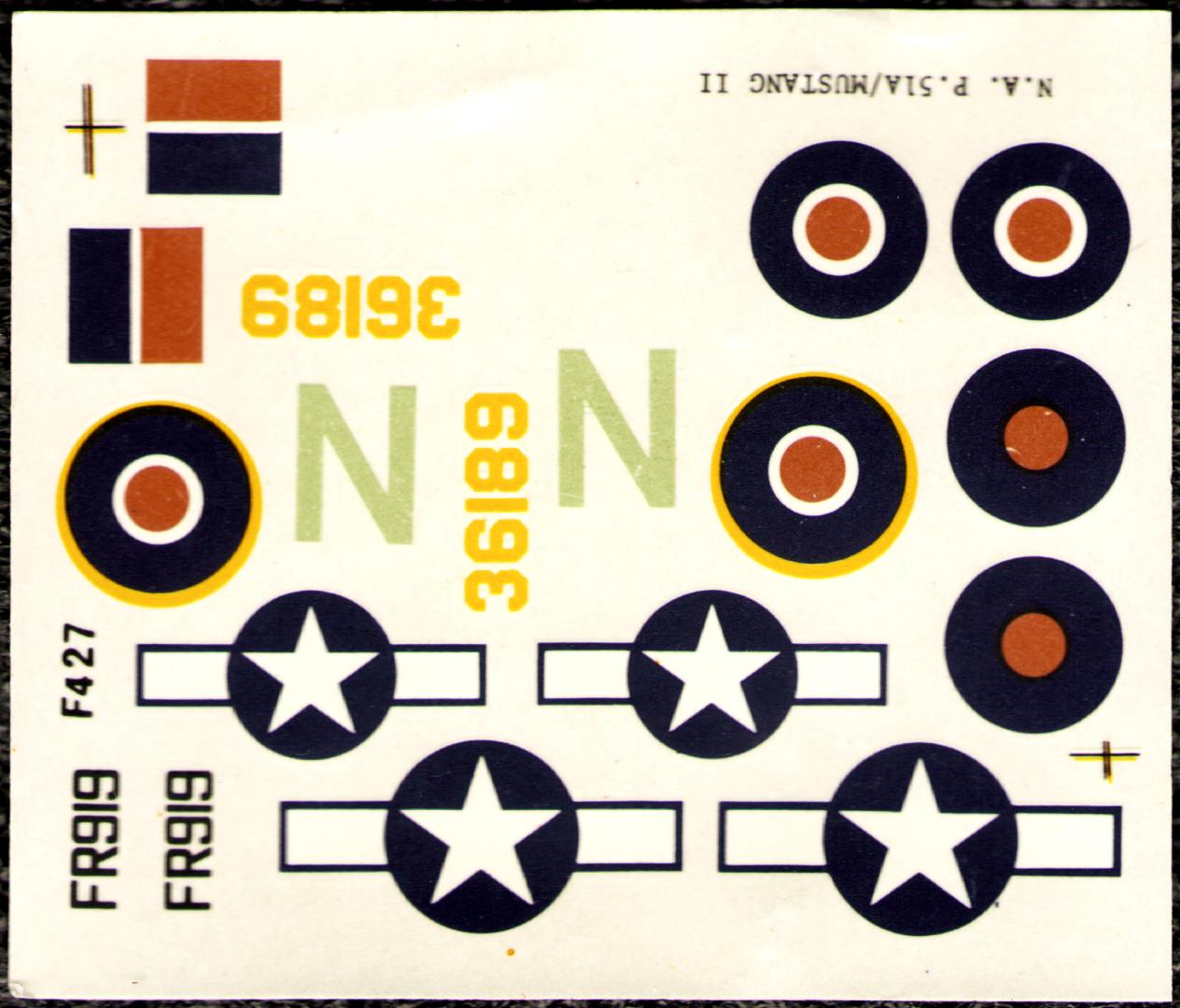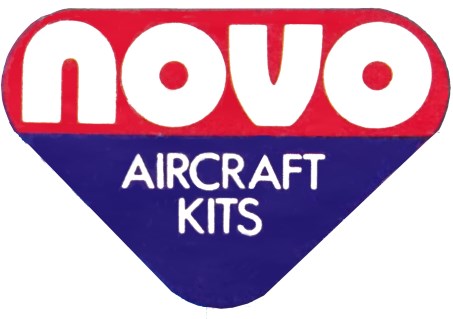 NOVO F196 Mustang P-51A (Mk.2) Fighter reconnaissance, NOVO Toys Ltd
---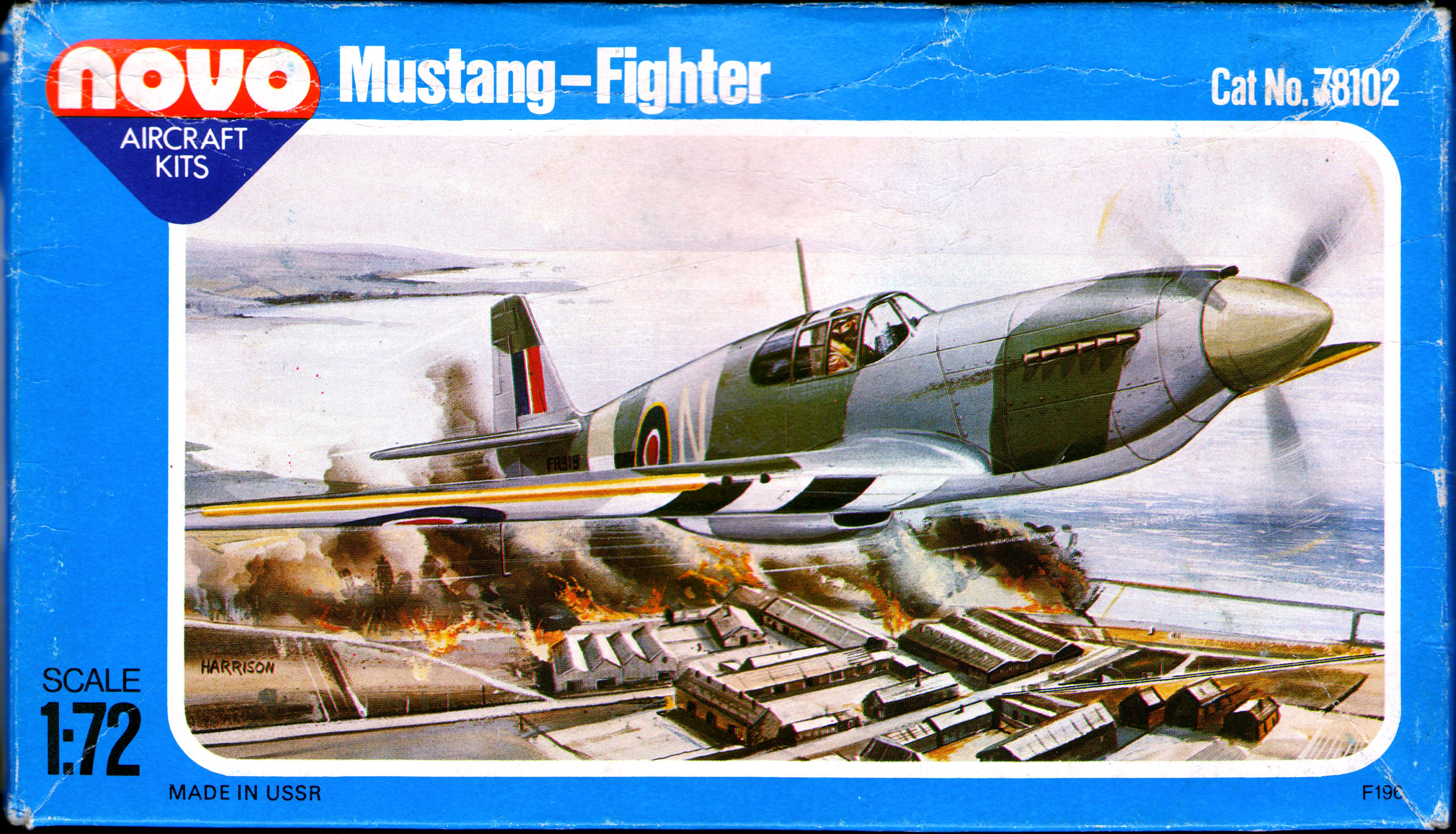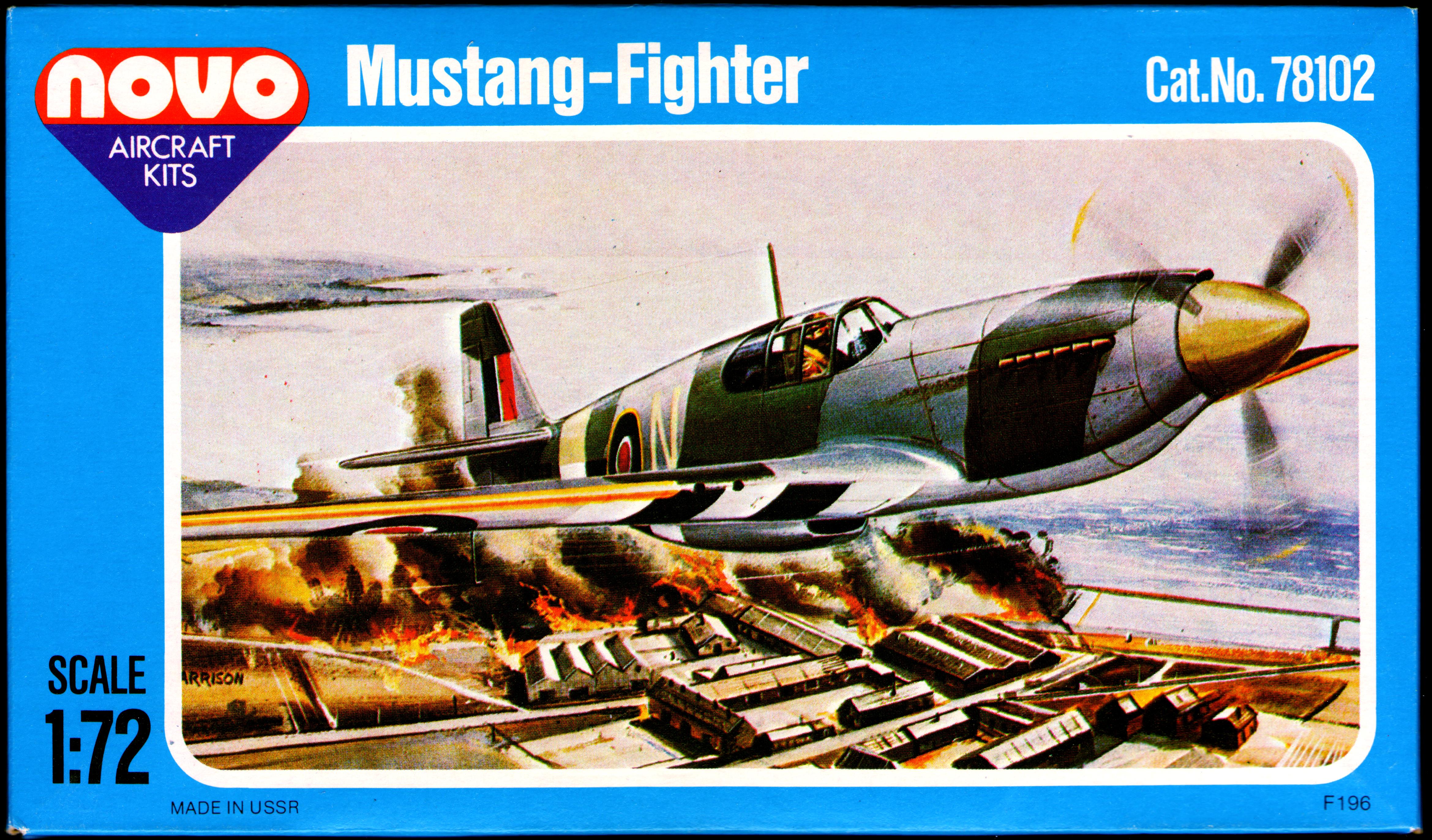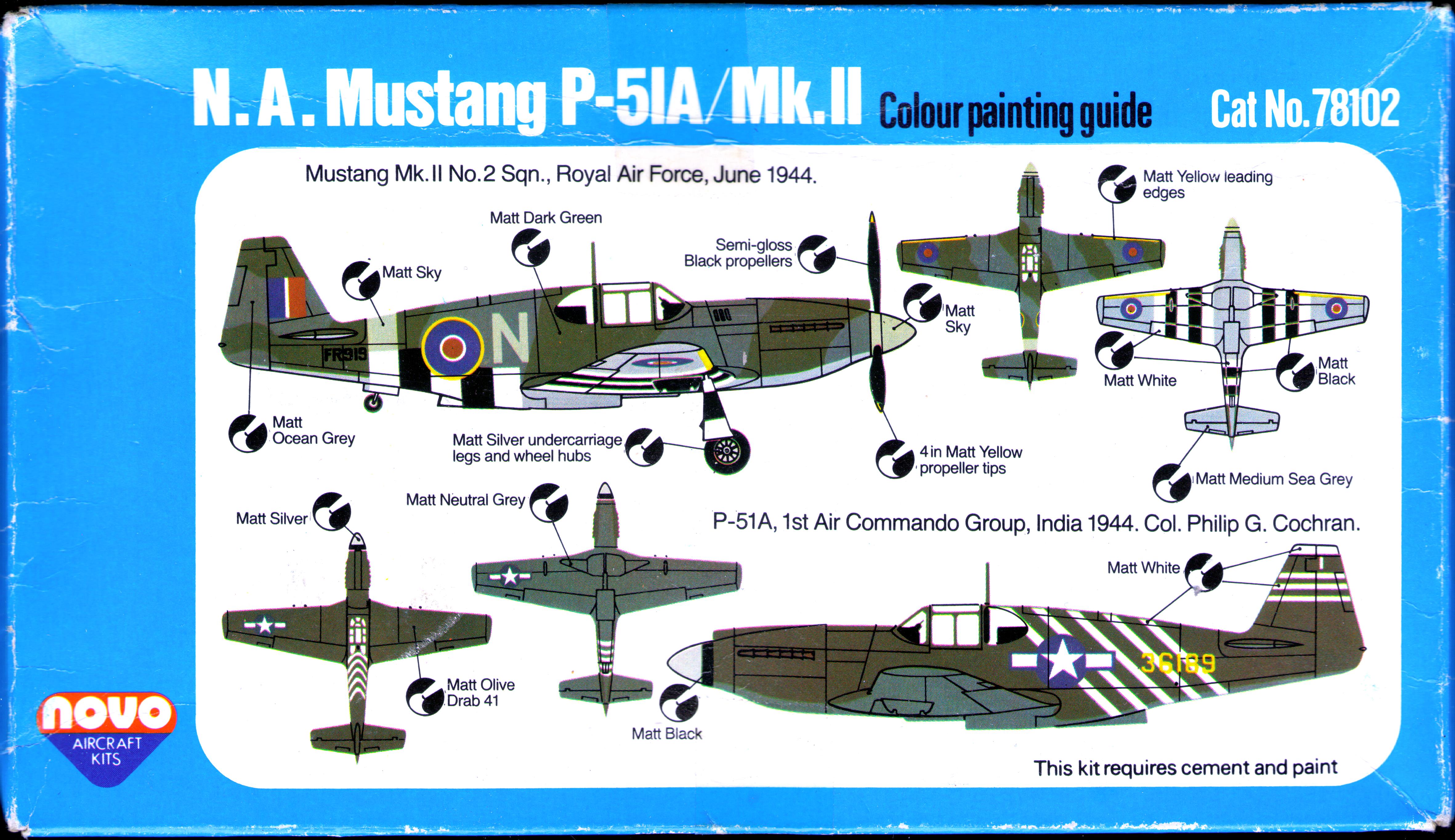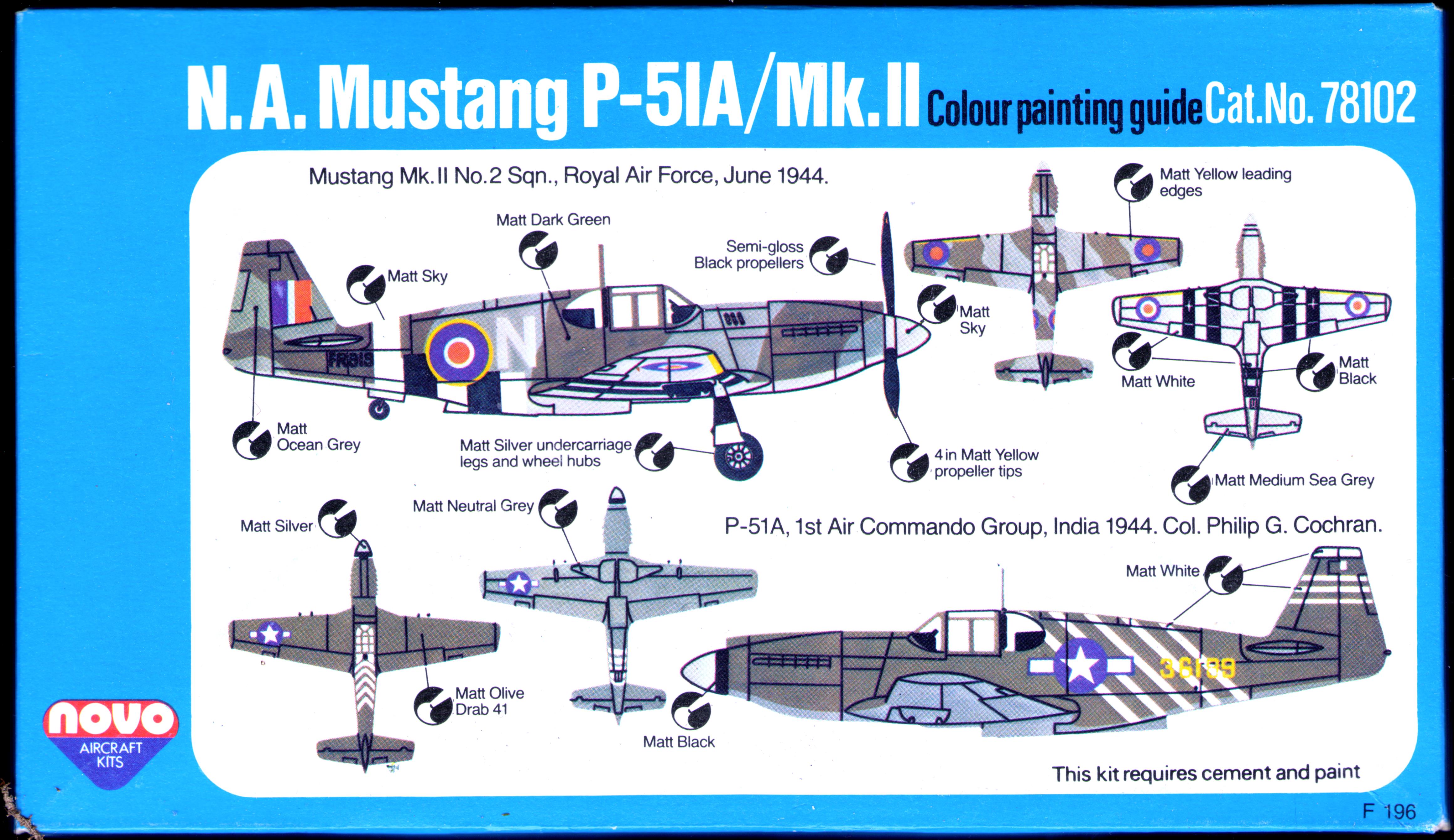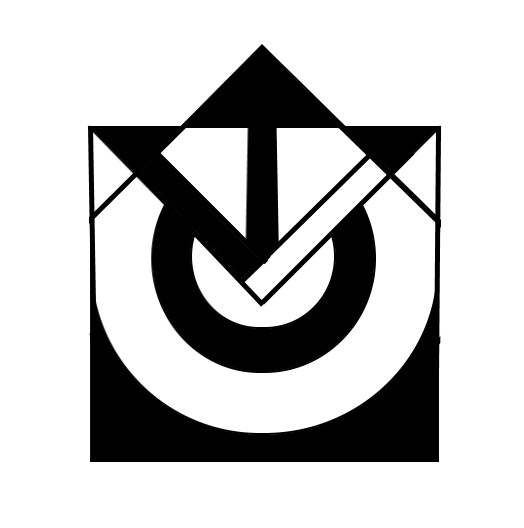 Index 196 Single-seat fighter reconnaissance (Odnomiestniy Istrebitel Razvedtchik), Ogoniok, mid 80
---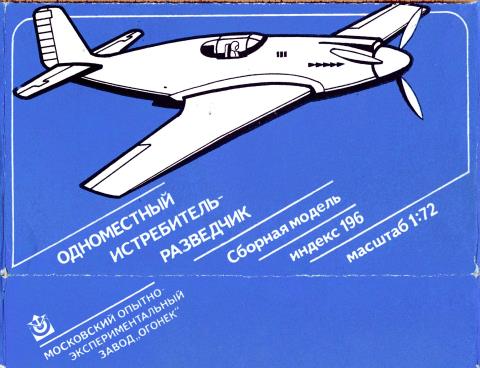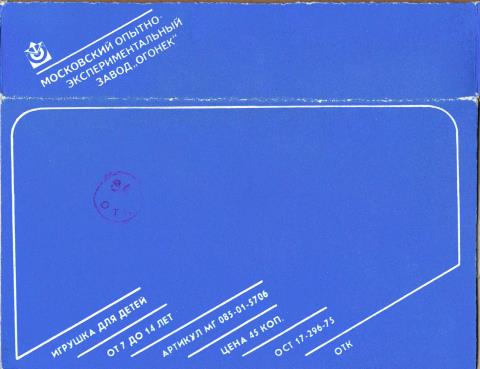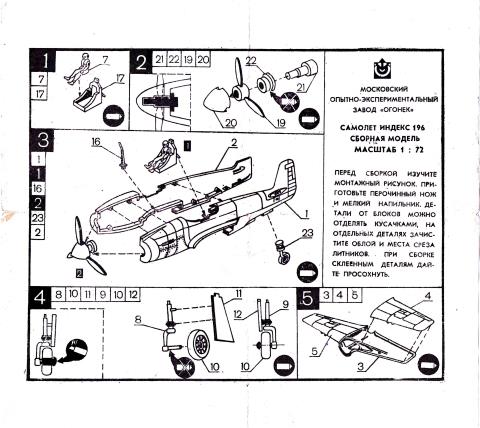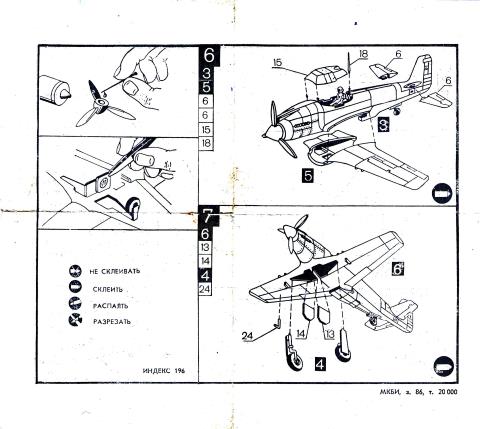 20.02.2018