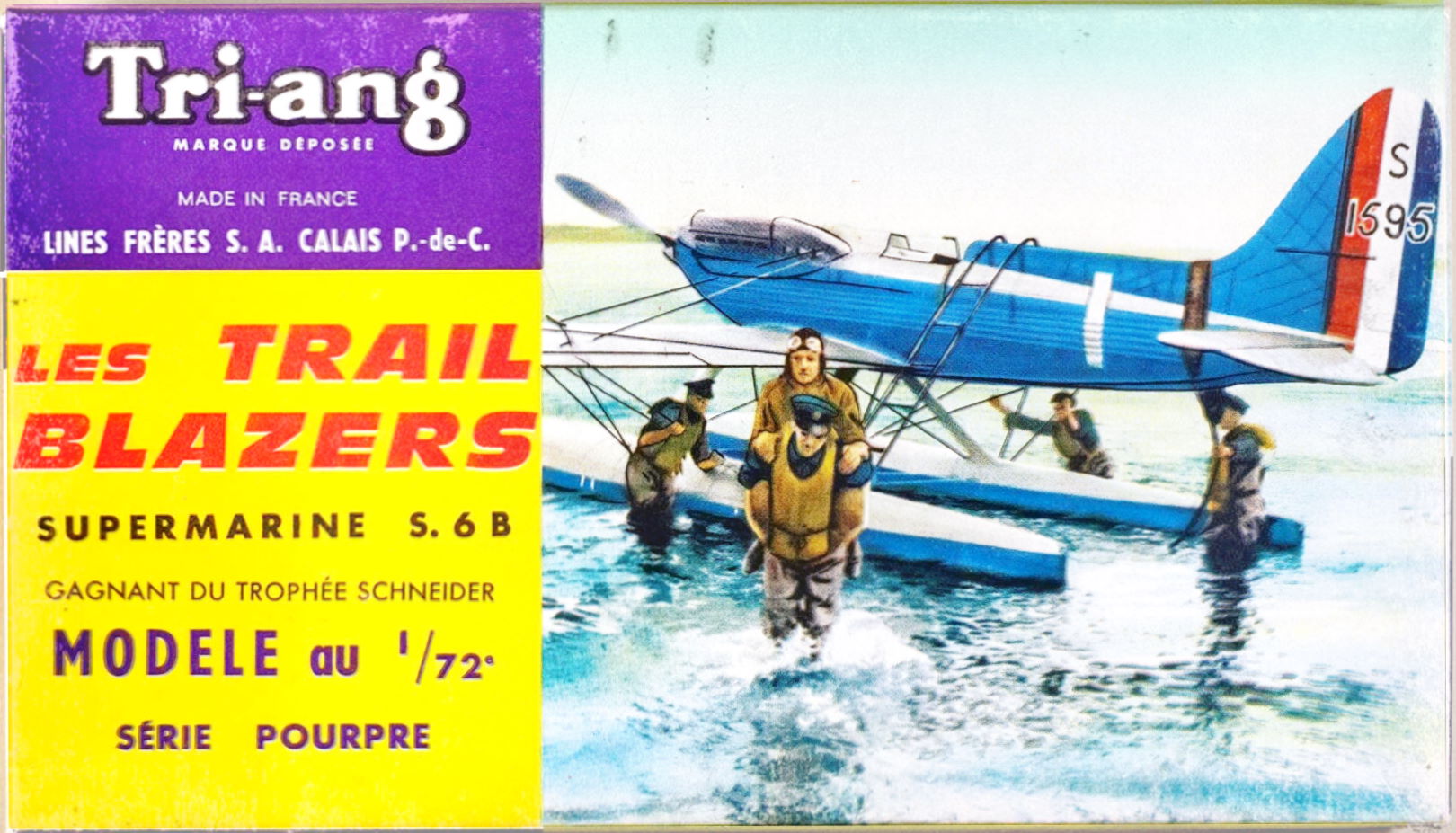 Tri-ang/Frog (France)
Lines Freres S.A., Route de Dunkerque, Calais, France (to mid-1964);
Meccano - Tri-ang Lines Freres S.A., 70-88 Avenue Henri Barbusse. 93 Bobigny. France (from mid-1964)
Period: 1962?-1972?
The French production was a very large operation, only surpassed by the Soviet activities of recent years. Despite this, very little has been known about it, never mind published.
The origins can be traced back to the founding of EEC in 1958. Since Great Britain was not a member state at the time, the Lines Bros, management wanted to get a foothold on the continent by establishing a branch in France. It needed to be close to the Channel coast in order to make the shipping of moulds back-and-forth as easy as possible. However, no suitable existing factory could be found so in the end a completely new facility was built on the outskirts of Calais.
The general idea was to send moulds over from England and having the actual production taking place in France -an EEC member - thus making the products duty-free when exported to other EEC countries. The production did not only include kits - indeed, this only accounted for some ten per cent of the capacity - but general toys as well.
At first, all kits produced were sold under the Tri-ang label, mainly in order to conform with the other French products. But no doubt the word Frog was also considered less suitable due to certain associations in British-French relations...
No production records have survived, but it seems likely that most contemporary Frog kits were produced in Calais as well. The Tri-ang boxes, decals and instruction sheets were all copied from the British originals and only showed minor changes. Plastic colours could differ from the normal Frog ones however, some startling combinations like red Scimitars being produced.
Kit numbers were the same as those used in Britain. However, many of the kits can be found with a C-prefix to this (e.g. C.334P). This was also used on other Lines products manufactured in France and stood for Calais. It seems to have been used up to mid-1963 or so and then deleted from future boxes printed. Some kits can therefore be found both with and without the C-prefix. When IMA changed from a suffix-P to a F-prefix in 1964 the French followed suit for a short period. Kits already in production were not changed, however.
Early in 1964 Lines Bros, bought the Meccano group and - almost as a bonus - also got control of their French branch. Meccano was already a well-established name in France - much more so than Tri-ang - and the two companies were therefore quickly integrated, the Meccano name being worked into the Tri-ang brand name on most products. The existing Meccano manager became the new managing director for France. He had no objection to the name Frog - indeed, he thought it a good joke! - and their kit range was thus renamed Frog/Tri-ang.
A new box style and new artwork was adapted for new releases. For reasons unknown, these also reverted to the old suffix-P. Kits already in production were not changed, apart from getting a sticker indicating the colour series when appropriate (red for the Attacker etc.). There is no known example of an old kit being given a new box. The fact that the Britannia was released in this style is admittedly confusing, but probably only indicates that it was never issued in the early style for some reason.
It should be pointed out that Tri-ang did by no means handle all sales to the continent. Managers of the continental Lines Bros, selling branches did, of course, buy where the price was lowest and Tri-ang prices were often higher than those of IMA. Lines Bros. (Holland) NV did, for example, mainly buy British-made kits.
By 1966, kit production was becoming uneconomical and was consequently terminated before long. This was partly caused by poor sales and partly due to problems in planning the mould swapping programmes. In early 1967 some 50000 standard Frog boxes were sent over from Britain and most remaining Tri-ang stocks reboxed - in some cases this was done by simply putting a new box over the existing one. But for certain kits, such as the ships, airliners and small-scale WWII bombers, no new boxes were available and old stocks of these were still sold as Tri-ang in the early 1970s.
Although not yet positively proved, it is believed that the moulds for the Rapide, Rotodyne and small-scale Blenheim, Hampden and Wellington were left behind in France and eventually scrapped there.
Some special issues are also worth a mention. In 1968 an ex-Heller Mirage IIIC was released under the Frog/ Meccano-Tri-ang label and this was joined by another three ex-Heller kits in 1971. These are the only kits known to have used the Frog name without ever having been produced by either IMA or Rovex. For some reason, some of these kits were also sold as Meccano-Tri-ang kits as well, without reference to Frog. Possibly this was after the Airfix take-over.
In the early 1970s Meccano was bought by Airfix and it is an ironic fact that from 1982 the former Lines Bros, factory in Calais produced all Airfix kits intended for the European market...
It is possible, but not very likely, that the ex-Renwal AFV and ship kits sold as Frog in England were also sold as Tri-ang. Since they are not really ex-Frog kits, nor used the name Frog in France, they have been excluded from the list.
"Old" Style
| | | |
| --- | --- | --- |
| * | F164 | Supermarine S.6B |
"New" Style
| | | |
| --- | --- | --- |
| *** | 164P | Supermarine S.6B |
FROG model aircraft 1932-1976, R. Lines, L. Hellstrom